Station: Republic, MI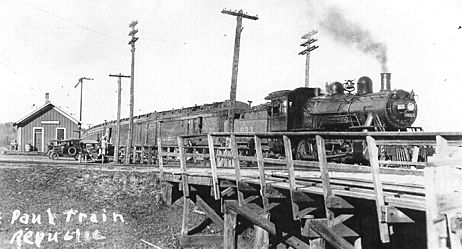 Republic was founded about 1871 and named after a mine which was located here in 1872 and managed by the Republic Iron Mining Company. The town was also known for a time as Iron City.
Republic was served by at least four railroads over its history, which include the Milwaukee Road, Chicago & North Western, Duluth South Shore & Atlantic and the Lake Superior & Ishpeming.
Photo Info/Credit: A Milwaukee Road steam locomotive and passenger train stops at the MILW depot at Republic. [Don Ross collection]