Interlocking: Bay City Junction, MI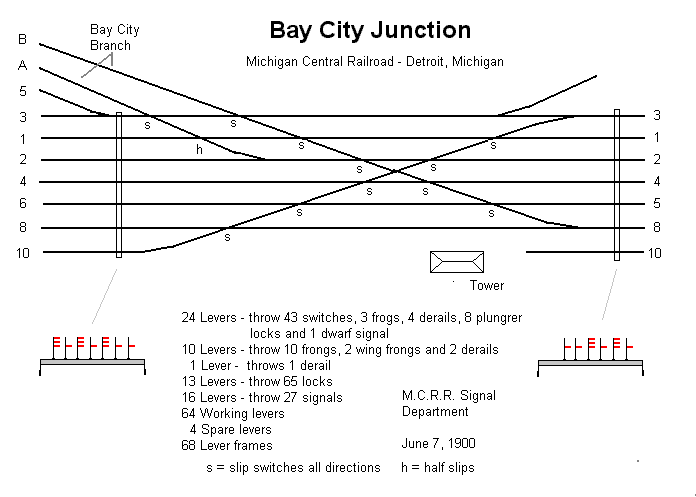 Bay City Junction was an interlocking tower west of the Michigan Central station. It was a junction of the MC main line and the Bay City Branch. In the late 1960's, the interlocking was remote controlled from West Detroit and the tower was abandoned and removed.
Photo info/credit: This drawing is from a blueprint in the State of Michigan Archives interlocker files. [Dale Berry]
Location: 42o19.640'N / 83o05.691'W.
Additional Information:
Bay City Junction was located on the Michigan Central's main line to Chicago, between the Detroit depot and West Detroit. This was a junction where trains left the main line to go to Bay City, and then north to Mackinaw City. The junction was actually built in the late 1800's when the branch was put in service. The above drawing is a reproduction of the interlocker diagram when the junction was interlocked in 1900. This drawing was filed with the Michigan Railroad Commission and is now on file in the State of Michigan Archieves.
The drawing actually depicts a time before the Michigan Central Depot on Vernor Street was constructed, and also precedes the construction of the Detroit River railroad tunnel. In 1900, passenger trains used the depot at 3rd street closer to the river itself. Passenger trains (as well a freight trains) left the depot enroute to Chicago, and the Bay City Junction interlocker was the first tower that they reached.
This interlocker was state of the art for the time, and included overhead semaphore signals for most through tracks, as well as complex slip switches which would route a train any number of ways. In the middle part of the 1900's, the tower was staffed by a "leverman" whose primary job it was to route trains through the "plant" and protect movements as instructed by the Yard Dispatcher in the Detroit Terminal.
On a typical day in the early 1900's, Bay City Junction saw approximately 30 passenger trains and a substantial number of freight trains as well. This increased, of course, when the tunnel to Canada was installed and the Michigan Central terminal was built about one mile east of the junction.
In 1947, the Junction hosted 25 main line passenger and express trains on most days, 20 Detroit to Toledo passenger trains (including 6 B&O), and 4 passenger trains between Detroit and Bay City for a total of 49 passenger trains through the interlocker. Freight movements were in addition to this number. By 1967, this number was reduced to 12 passenger and mail trains to and from Chicago, and a single round trip for the B&O between Detroit and Toledo on Saturdays only.
Sometime between 1967 and 1971, Bay City Junction was remoted from West Detroit tower (along with 15th Street and 20th Street Towers), the the tower was closed and removed.
Notes: In 1935: Tower communicated on Grade No. 13 (3 short rings). Others on this grade line: Bay City Yard master (4 short rings); Scotten Avenue Switchtender (3 long rings); Spring Works Switchtender (2 long, 1 short ring); and Vinewood Avenue Switchtender (1 long, 1 short ring). [MCDT35]