Interlocking: Belt Line Junction, Detroit, MI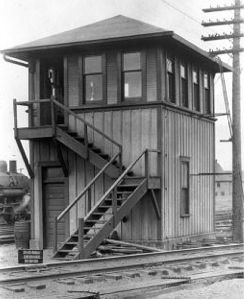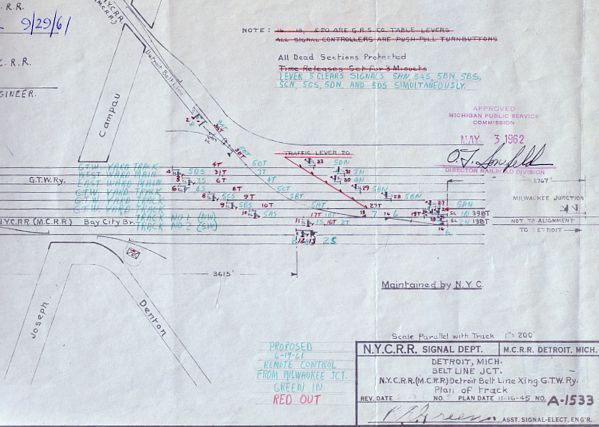 Belt Line Junction was an interlocking tower on the Michigan Central Bay City Branch, just northeast of Milwaukee Junction. MC trains left the main line here crossing the GTW main line and yard, to get to their Belt Line which went southeast to the Detroit river front and the MC Transit Railroad. The Transit Railroad, a MC subsidiary, ran along the Detroit River between Dequindre and Mt. Elliott.
Photo info/credit: Top, the tower at Belt Line Jct. 2nd photo, a schematic drawing of the track layout and interlocker at Belt Line Jct. This diagram was drawn in 1945 and updated in 1961. From the State of Michigan Archives.
Belt Line Junction was the original start of the MC Belt Line, but the MC built the Belt Line Extension from North Yard to a location just north of the Ford Expressway (I-94) as another way to access the Belt Line. This extension crossed the GTW at Forest Lawn Tower (near Forest Lawn Cemetary).
Additional Information:
1935: Belt Line Junction communicated on Grade Lines 2 and 3. Also on Grade Line 2 was Beaubien (1 long, 2 short), Milwaukee Junction (1 long, 3 short), North Yard (3 long, 1 short); West Detroit (2 short); and Vinewood Avenue Switchtender (1 long, 1 short). On Grade Line 3 were the Belt Extension Yardmaster (1 long, 3 short) Forest Lawn Tower (1 long, 2 short); North Yard (4 short). [MC Detroit Terminal Timetable No. 76]