Drawbridge: (Rouge) Bridge, Detroit, MI (Wabash/NS)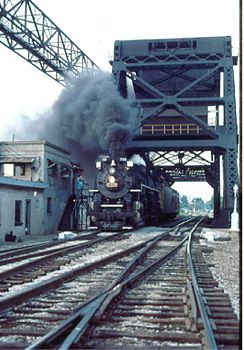 The NS Drawbridge crossing the Rouge River was built when the Rouge River was widened for the coming of the Ford Motor Company Rouge complex in the early 1920's. This bascule bridge replaced an older swing bridge.
Photo info/credit: Top, this is the west end of the Norfolk Southern Rouge Bridge. NKP 765 is westbound at full steam on August 14, 1983 with an excursion train. [Charlie Whipp]
The drawbridge (#714) was rebuilt by Midwest Steel Company in 1981 and 1982. In January, 1982, six switch engines stored at Oakwood Yard were placed on the bridge to keep the span down while the counterweight was disconnected and new beams were placed. [IT-2/82].
The NS Bridge operator also controls the NS (former Wabash line) line from west of Delray to Manifest Yard, including the entrance to the Foreman Wye, the crossing of the Junction Yard branch, and the junction with the CN line to Toledo (former Detroit & Toledo Shore Line).
Location: 42o17.247'N / 83o08.392'W.