Interlocking: Delray Tower, Detroit, MI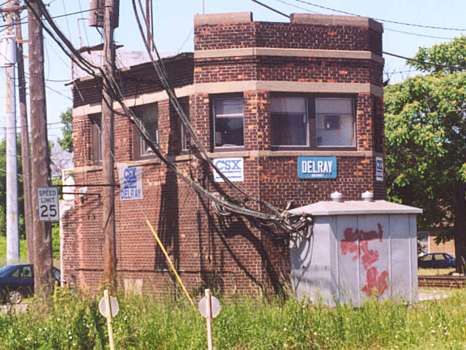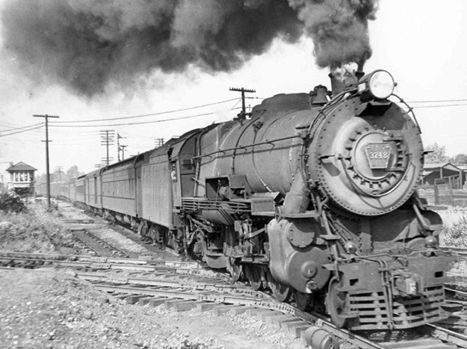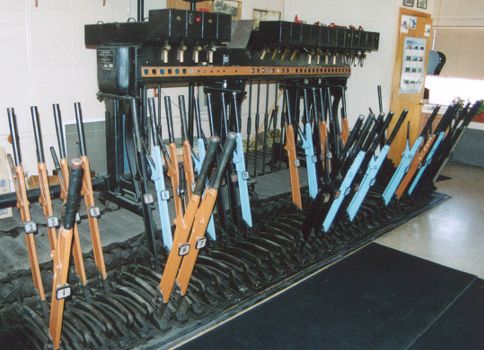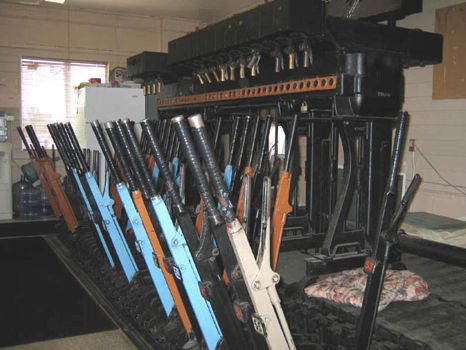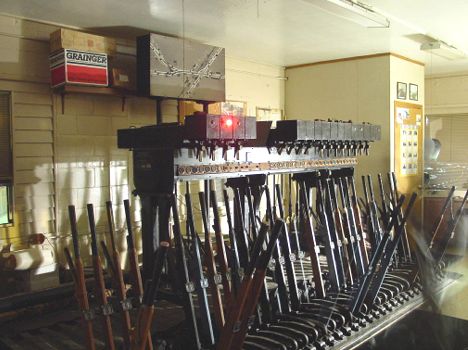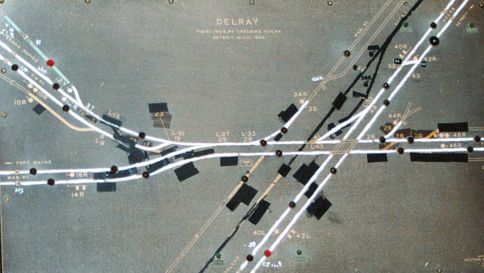 Delray interlocking tower was located on Dearborn Avenue in the Delray area of the City of Detroit. The tower controlled the crossing of several railroads and several other junctions nearby:
Pere Marquettte/Union Belt main line (Detroit to Chicago)
Wabash main line (Detroit to Montpelier, OH)
Wabash West Detroit branch (West Detroit to the Detroit River, cement plant)
Michigan Central Toledo Branch (West Detroit to Toledo)
Michigan Central industrial lead to Detroit River
Michigan Central east end of Detla Yard
Lake Shore & Michigan Southern Toledo Branch (West Detroit to Toledo)
Detroit Street Railway Dearborn Avenue line
Entrance to the Wabash roundhouse east of the interlocking
Photo info/credit: Top, the interlocking tower at Delray, Michigan in southwest Detroit. Delray as of 2015, is the only staffed interlocking tower remaining in the City of Detroit not associated with a drawbridge. This tower was built in 1945 by the Pere Marquette, and replaced a wooden tower which was built around 1891. [Nathan Nietering]. 2nd photo, the Pennsylvania Railroad's RED ARROW which is passing the old Delray Tower enroute to Fort Street Union Station around 8:00 a.m. The train carried sleeping cars, a bar-lounge, and a dining car. This photo was taken on July 29, 1941. The RED ARROW trains were named after a World War I infantry troop. Note that Delray Tower in this photo was replaced with the current tower in the mid-1940's, after World War II. The diamond being crossed is the NYC Detroit-Toledo line. [EL Nowak/Charlie Whipp collection]. 3rd-6th photos, the US&S interlocking machine inside Delray Tower from various directions, in 2003 photos. The black levers are switches, blue levers are locks, and the brown levers are out of service. The end lever, #55, is the directional lever. The "pistol grip" levers above the "armstrong" levers run the signals in the interlocking. The bottom photo is of the model board overhead. In this 2003 photo, note that many of the original signals and switches which were in service in 1943, have been removed and taped over. [Nathan Nietering]
This was one of the busiest interlocking towers in Detroit and is one of only two towers in operation which are not associated with a drawbridge (the other is BO Tower in Kalamazoo).
Location: 42o17.593'N / 83o07.780'W.
Additional information:
1935: Southbound Michigan Central trains approaching Delray were required to whistle ( _ _ o) for a route to Delta Yard, and ( o o _ ) for a route to the Pere Marquette. [MC Detroit Yard EE Timetable No. 76]
Delray communicated on Grade Line No. 5 (3 short). Also on this grade line were River Rouge Depot Yardmaster (2 long); Rouge Drawbridge (4 short); West Detroit (2 short); and YD Tower (1 long, 1 short, also known as Pleasant Street). [MC Detroit Yard EE Timetable No. 76]