Location: Junction Yard, Detroit, MI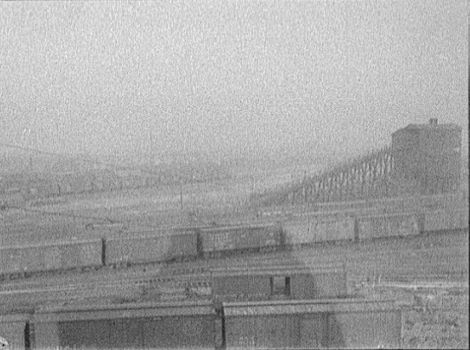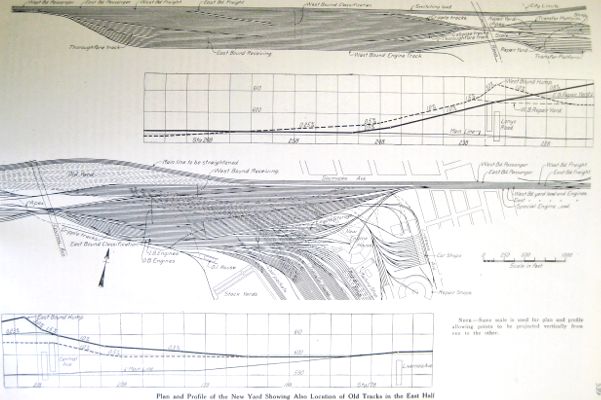 Junction Yard was a large Michigan Central classification yard on the west side of the City of Detroit. It was along the MC's main line (Detroit to Chicago), running approximately from Livernois Avenue to Wyoming Road in east Dearborn. The yardmaster tower was at approximately Wyoming Avenue. Parts of this yard had different names (i.e. Livernois Yard) with dedicated yardmasters. This yard which had a westbound hump operation at Lonyo Road, was 2.25 miles long, or even longer if you consider the advanced departure yard which extended west to Town Line at Greenfield Avenue.
Photo info/credits: Top, This photograph, taken around 1900, shows Michigan Central's Junction Yard, which was located along their main line between Livernois and Wyoming Avenues. Though the quality of the photograph is poor, it does show an old style coaling station. Cars full of coal were backed up on the ramp and then dumped into the building and then ultimately into the tenders or adjacent locomotives. [Library of Congress collection]. 2nd photo, a map of Junction Yard in 1914.
According to a map provided in 1950 by the Motor City Traffic Club, there were the following yards within the Junction Yard complex:
Southbound Yard - 399 car capacity
Southbound Stock Yard - 171 car capacity
Southbound Transfer Yard - 236 car capacity
Old Westbound Yard - 656 car capacity
Eastbound Classification Yard - 1,255 car capacity
Eastbound Receiving Yard - 572 car capacity
Westbound Classification Yard - 2,316 car capacity
Westbound Receiving Yard - 724 car capacity
Advance Departure Yard - 507 car capacity
Location: 42o19.141'N / 83o08.818'W.