Location: Livernois Yard, Detroit, MI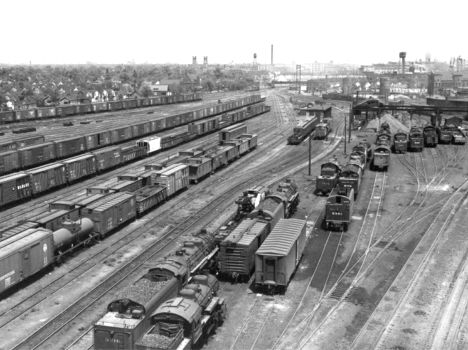 Livernois Yard is located along the Michigan Central main line (Detroit to Chicago) 1/4 mile west of West Detroit interlocking. This was one of the early yards in the MC's Detroit terminal, predating 1900. At some points it was refered to as Junction Yard (named after Grand Junction a.k.a. West Detroit Junction) but in the mid-1900's Livernois Yard had a separate yardmaster and Junction Yard was west of Livernois Yard. Livernois Yard extended approximately rom Livernois Avenue to Central Avenue in the City of Detroit. The yardmaster tower was located just west of the Livernois Avenue overpass.
Photo info: Top, the east end of New York Central's Livernois Yard in Detroit, showing part of the engine facility to the right. Beyond the yard in the distance is West Detroit tower. 1954. [Ernie Novak/Charlie Whipp collection]
Two separate roundhouses were located here, along with a very large coalling facility and other shops.
Location: 42o19.420'N / 83o07.022'W.
---
Time Line
February, 1873. MC Works in Springwells
Energy is displayed at the site of the Michigan Central's new works. A side track furnishes the building material and the loaded cars give a business air to the place. The excavations for the building foundation have all been made, and the material is on the ground to commence work. The lowness of the ground is the only drawback, and to obviate this difficulty large drains, tunnel like, are in progress of construction. [DFP-1873-0218]
1902. A new coaling plant is installed at West Detroit. [MCR-1903]