Swing Bridge: Jefferson Avenue Swing Bridge, Detroit, MI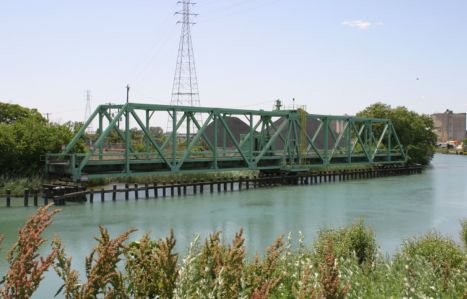 The Jefferson Avenue Swing Bridge to Zug Island is no longer connected to rail. The original swing bridge at this location may have been moved to this location from the Canada Southern crossing of the Detroit River, between the mainland and Grosse Isle. The current bridge at this location was built, or rebluit in 1976 on an existing pier..
The bridge is now used as a hot metal escape route for cars and trucks.
Photo info/credit: The bridge in the open position. [Dale Berry]
Location: 42o17.388'N / 83o07.389'W.