Location: Plymouth Yard, Plymouth, MI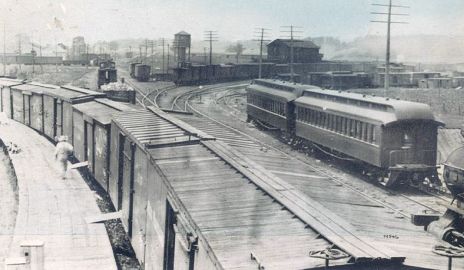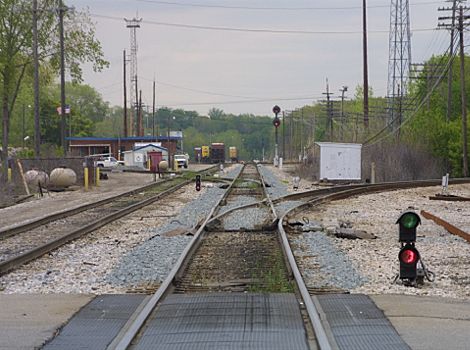 Plymouth Yard is a yard along the Pere Marquette (Toledo to Saginaw) line, just north of the crossing of the PM (Detroit-Grand Rapids) line in downtown Plymouth.
Location: 42o23.009'N / 38o28.074'W.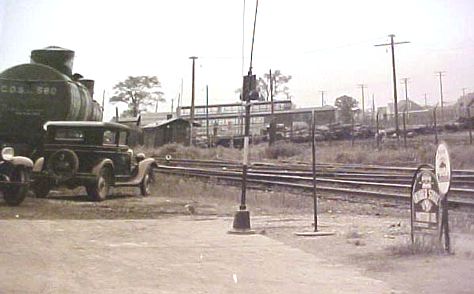 This yard has always served Plymouth area industries. In recent years, yard jobs were based out of here to handle the Ford Motor Sheldon Road plants as well as auto plants east of here in Livonia. During the steam era, Plymouth Yard had a large roundhouse in the northeast quadrant of the crossing on the south end of the yard. The yard continues to serve the CSX in 2014.
Photo info: Top, an old photograph of the Pere Marquette Plymouth Yard taken in 1913. 2nd photo, modern day Plymouth, looking north on the CSX Saginaw Subdivision. The green over red dwarf signal is for a northbound train which will proceed on the wye to Rougemere. Beyond the wye is the home signal for the diamond. Past the diamond is the yard and the yard office (former train order station) is on the left at the crossing of the CSX Plymouth subdivision. 2002. [Dale Berry photo], 3rd photo, a 1930's view of the yard. [Dale Berry collection]
---
Time Line
1907. The PM installed a new cinder pit here. [PMAR-1907]
1927. The PM had operators here 24/7 at the crossing here, paying between 73¢ (day) and 64¢ per hour. [PMTA]
1942: The PM had a 100' electrically operated turntable at the roundhouse in Plymouth. It was in place as of 1942.