Location: Rouge Telegraph, Dearborn, MI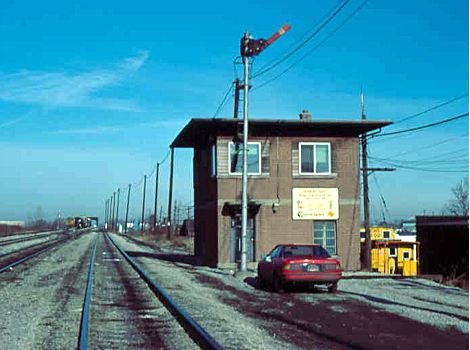 Rouge Telegraph was a 2-story tower which was located at the north end of Rougemere Yard in southeast Dearborn. The tower operator lined westbound trains on the main line to Plymouth, and inbound trains towards the Union Belt and Fort Street Union Station.
The tower is no longer manned but still exists as of 2021.
Photo info/credit: Top, Chessie System's Rouge Telegraph Tower, located at the north end of Rougemere Yard in East Dearborn. This tower governed train movements leaving the yard towards Plymouth and beyond. The large bridge over the top of the New York Central (Miller Road) is in the distance. 1987 [Charlie Whipp]
Location: 42o18.748'N / 83o09.385'W
---
1908 improvements. The PM installed a new interlocking plant here. [PMAR-1908]