Location: River Rouge , MI - DT&I Swing Bridge, (DT&I)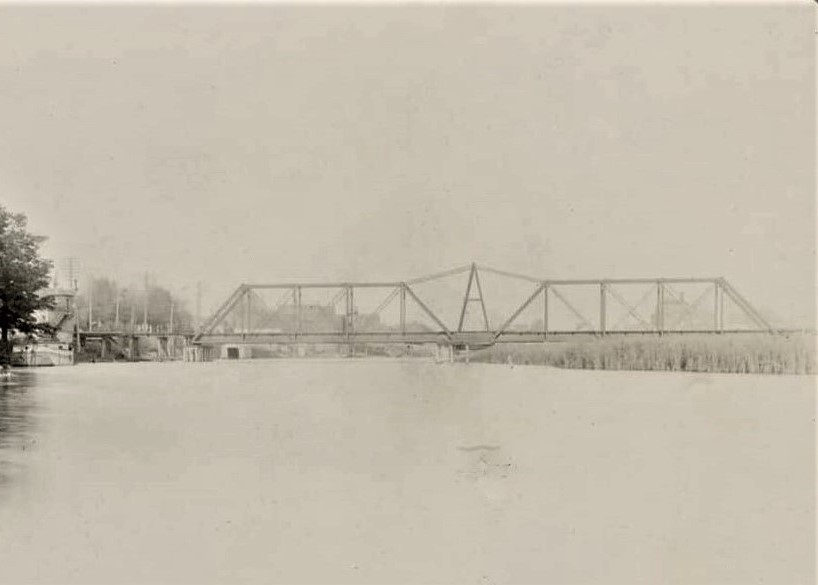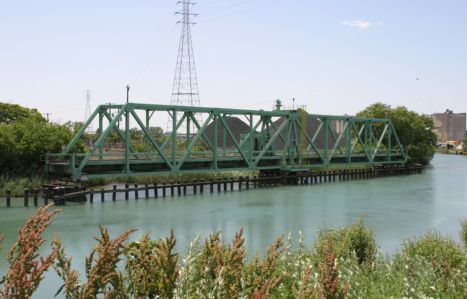 This swing bridge crosses the River Rouge near the corner of Dearborn Avenue and Jefferson Avenue. It was used originally by the Detroit, Toledo & Ironton main line to reach its passenger station and yards in Delray. The bridge, which is green in color, is no longer connected to rails, and is used as an emergency exit for vehicles from the island. This bridge was originally built for the Canada Southern to cross between mainland and Grosse Isle. It was removed and floated to the new Rouge River location during the Henry Ford era of the DT&I.
The bridge itself is about twice as large as necessary to accomplish the job it needed to do, but Henry Ford was always economical and had the resources to move it.
Photo Info: Top, an old view from the 1920's of the DT&I bridge over the Rouge River, looking north. It is difficult to see but the interlocking tower which controlled the bridge and the crossing of the Jefferson street railway is at the far left. 2nd photo, a view of the bridge from around 2010. [Dale Berry]
The original swing bridge at this location was built in 1897 and 134 feet in length. This was described as a steel Pratt truss bridge, swung by hand. It was controlled by semaphore signals and an interlocking. [MCR-1904] It may have been moved to this location from the Canada Southern crossing of the Detroit River, between the mainland and Grosse Isle. The current bridge at this location was built, or rebuilt in 1976 on an existing pier..
The bridge is now used as a hot metal escape route for cars and trucks.
Location: 42o17.388'N / 83o07.389'W.