Location: River Rouge, MI - Rouge River Drawbridge (MC-NYC-Conrail SA)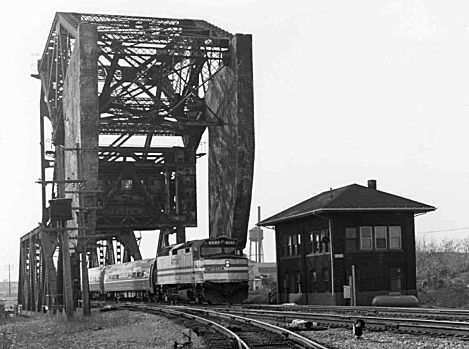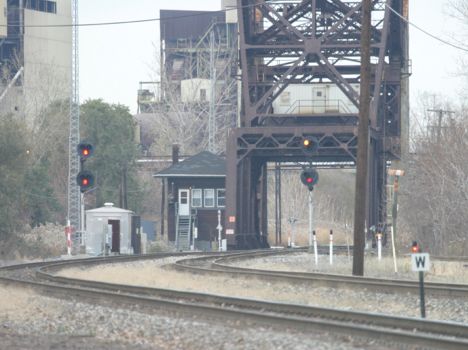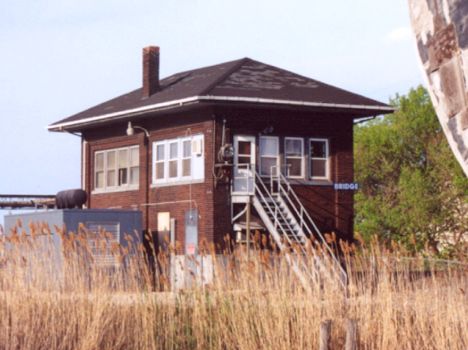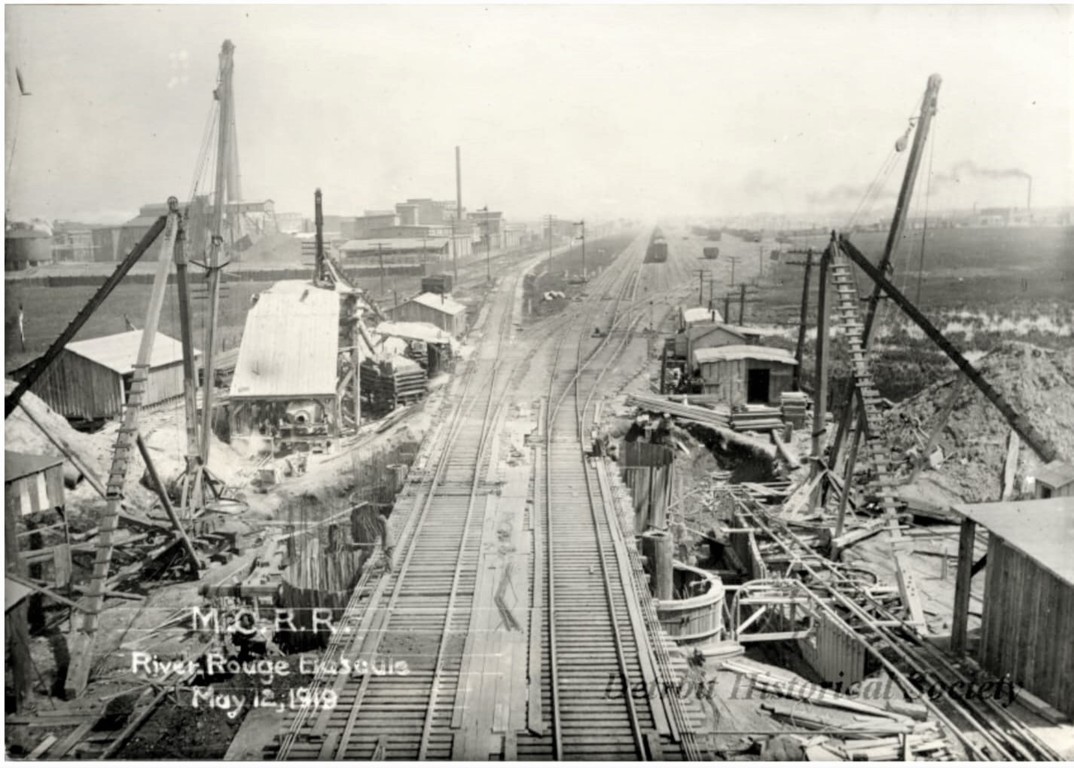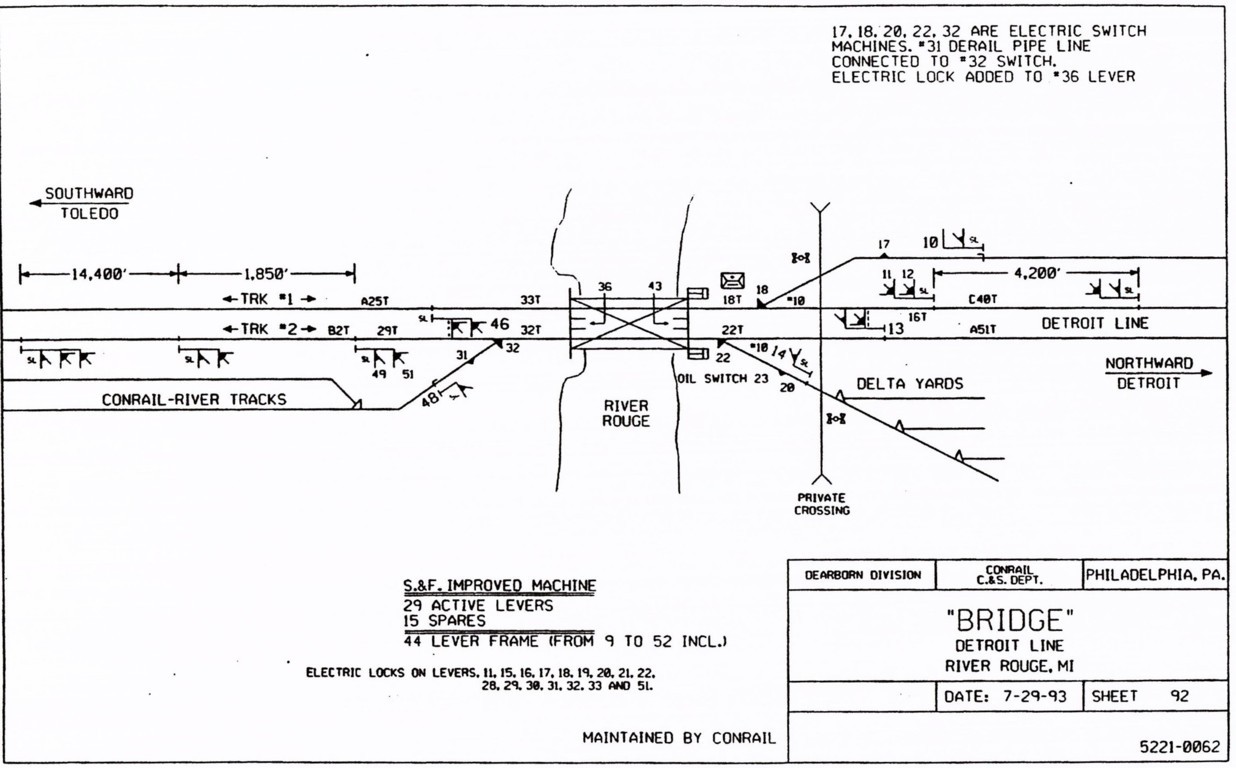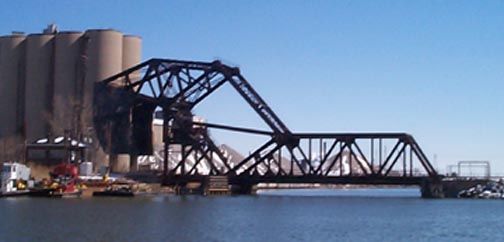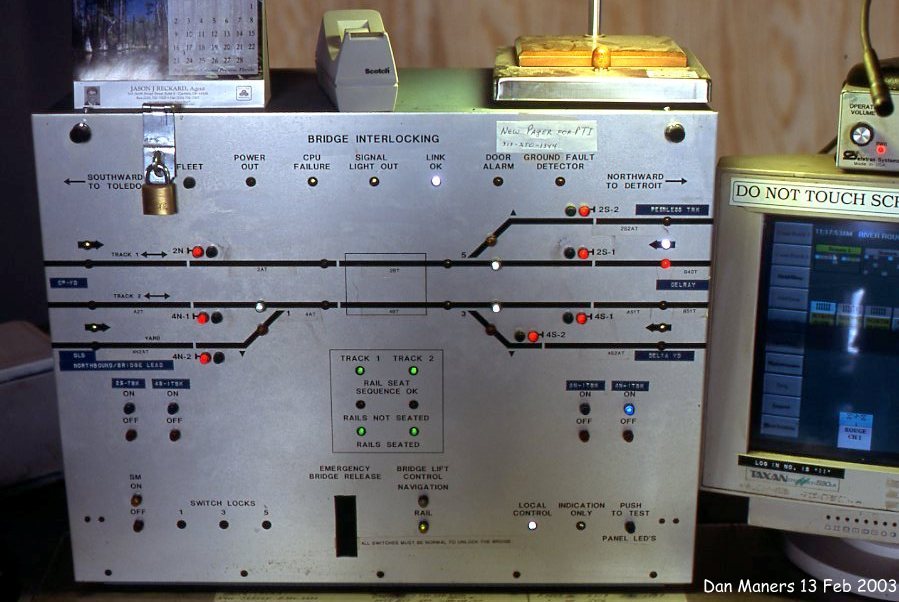 This double track Strauss single-leaf bascule bridge was originally used by the New York Central railroad on their line between Detroit and Toledo. It is 125 feet clear span with a square crossing. It provided for two tracks and was designed for Cooper's E-70 loading with full impact allowance. It replaced an existing swing bridge which was erected in 1887 when the Rouge River was widened to accommodate lake freighter traffic to Ford's Rouge complex. The project was paid for with an appropriation of Congress in the sum of $490,000. The total cost of the project was $541,000. The channel depth below is 21 feet below the normal water level. Information from Railway Age, 9/17/1920.
Photo info: Top, the bridge in 1988 under Conrail ownership. At this time, Amtrak ran a train once each day between Toledo and Detroit. [Charlie Whipp]. 2nd photo a 2003 shot looking north at the approach to the bridge. [Dale Berry]. 3rd photo, a close up photo of the bridge's interlocking tower in 2004. The counter-weight for the bridge is at the right of the photo. [Nathan Nietering],
4th photo is a view taken from the top of the new MC/ NYC bridge about 1919. The track to the right is the MC and its Delta Yard. The line to the left is the NYC. At the time of the photo, the lines were jointly operated with southbound traffic using the NYC and northbound traffic using the MC. [Detroit Historical Society photo].
5th photo is the Conrail track diagram for the Bridge interlocking in 1993. 6th photo, taken from the west looking east. [Dale Berry]. 7th photo, the model board at the Bridge interlocking tower in 2003. [Dan Maners photo]
---
Note: For a description and photo of the previous 1877 bridge at this location, click here.
---
Time Line
1903. In 1903, this was a swing drawbridge of 165 in length, built in 1887. It was a Pratt truss iron bridge, 13 feet above the water line (with 16 feet deep water). It was swung by hand power. [MCR-1904]
1920. A new swing bridge here replaces the former 1887 bridge (see above). This bridge was replaced in conjunction with the widening of the Rouge River near the Ford works.
1926. The Wabash railway installs a new crossing/junction interlocking with 19 electric levers. This is in addition to the existing 15-lever machine. [RSC-1927]
2019 - The bridge tower is closed and the bridge is remotely controlled by Conrail Shared Assets train dispatchers in Mount Laurel, NJ.