Station: Slocum Junction, Trenton, MI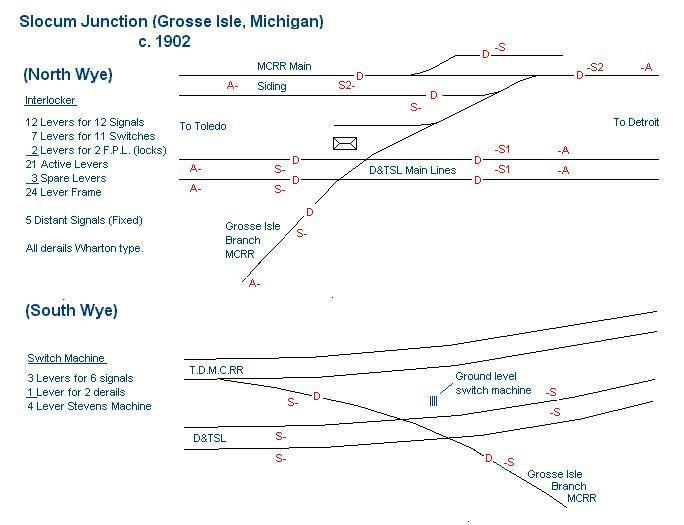 Slocum Junction was the grade crossing of the Canada Southern railroad (Ontario, Canada to Fayette, OH via Flat Rock) and north and south Lake Shore and Michigan Central lines (from Detroit to Toledo).
Slocum Junction was named after the Slocum family which owned the land here. [HMC]
Photo info: A map of both the north and south wye interlockings at Slocum Junction in 1902. Drawn from the State of Michigan Archives railroad interlocker file. [Dale Berry]
This crossing did not exist long because the Canada Southern was purchased by Vanderbilt interests and truncated just east of the crossing. But the location survived in a different way as north and south wye tracks were connected to the Michigan Central main line.
When the Detroit & Toledo Shore Line ( GTW/Clover Leaf) built their own line parallel and east of the NYC/ MC line, the former CS wye tracks crossed the D&TSL and two interlockings were constructed. These were eventually reduced to one tower on the north leg which was used to shuttle MC trains off Grosse Isle to Detroit until 1929.
Location - Crossing: 42o07.673'N / 83o11.286'W
Location - North Interlocking: 42o07.802'N / 83o11.216'W
Location - South Interlocking: 42o07.592'N / 83o11.288'W
---
Time Line
1874. Railroad service to Grosse Isle, Stony Island and Canada via ferry begins. [HMC]
1924. The last passenger train to Grosse Isle was operated on January 9. [HMC]
1929. The last freight train to Grosse Isle was operated on June 16. [HMC]
1931. The MPUC grants permission to replace the interlocking tower at Slocum Junction with a ground lever device, normal position for passage on the D&TSL. The change is due to the elimination of all passenger trains on the branch to Grosse Isle. [MPUC-1931]