Station: Slocum Junction, Trenton, MI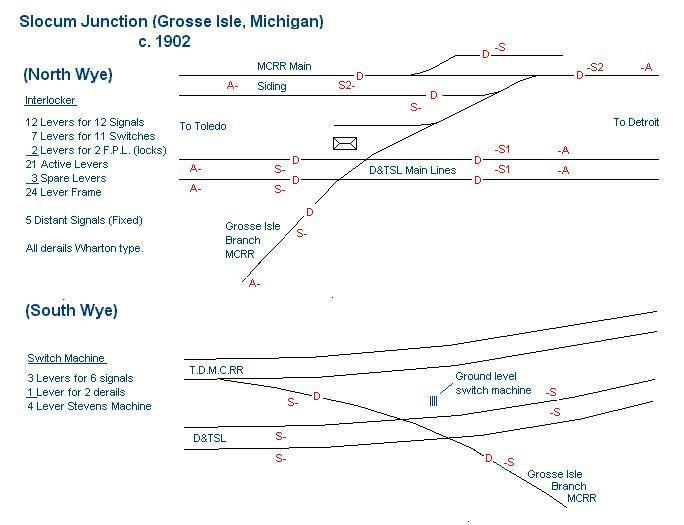 Slocum Junction was the grade crossing of the Canada Southern railroad (Ontario to Fayette, OH) and parallel Lake Shore and Michigan Central lines (from Detroit to Toledo).
Photo info/credit: A map of both the north and south wye interlockings at Slocum Junction in 1902. Drawn from the State of Michigan Archives railroad interlocker file. [Dale Berry]
This crossing did not exist long because the CS was purchased by Vanderbilt interests and truncated just east of the crossing. But the location survived in a different way as north and south wye tracks were connected to the Michigan Central main line.
When the Detroit & Toledo Shore Line (GTW/Nickle Plate) built their own line parallel east of the NYC/MC line, the former CS wye tracks crossed the D&TSL and two interlocking towers were built. These were eventually reduced to one tower on the north leg which was used to shuttle MC trains off Grosse Isle to Detroit until the international tunnel was built in Detroit about 1907.
Location - Crossing: 42o07.673'N / 83o11.286'W
Location - North Interlocking: 42o07.802'N / 83o11.216'W
Location - South Interlocking: 42o07.592'N / 83o11.288'W