Location: Zug Island Yard, River Rouge, MI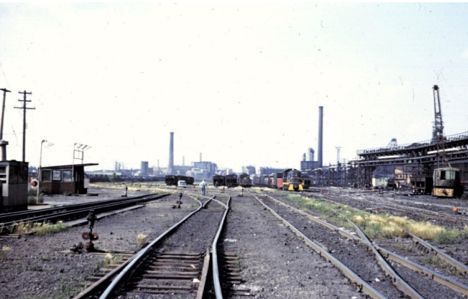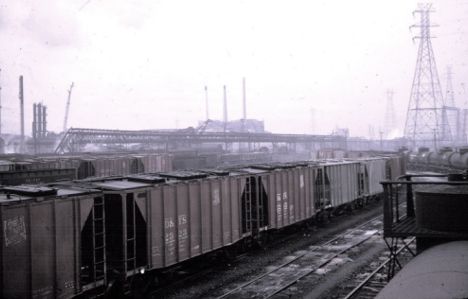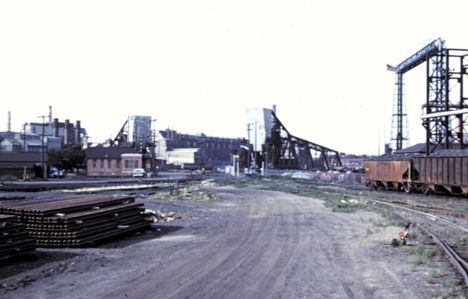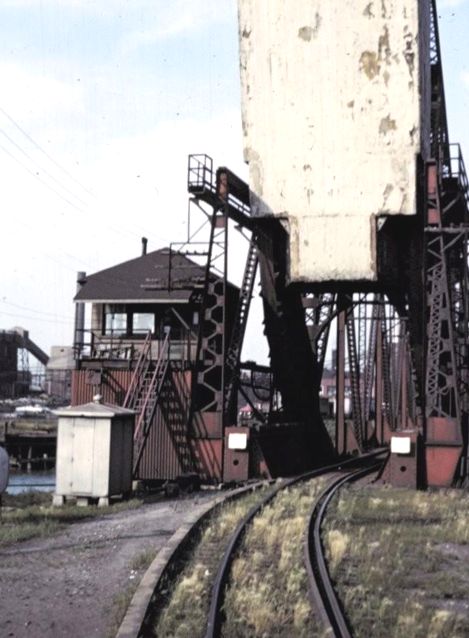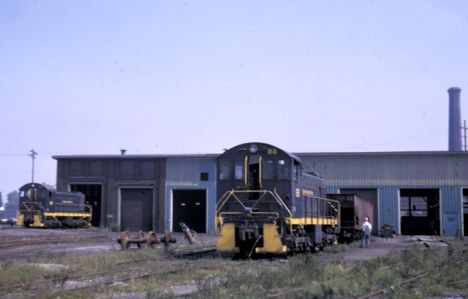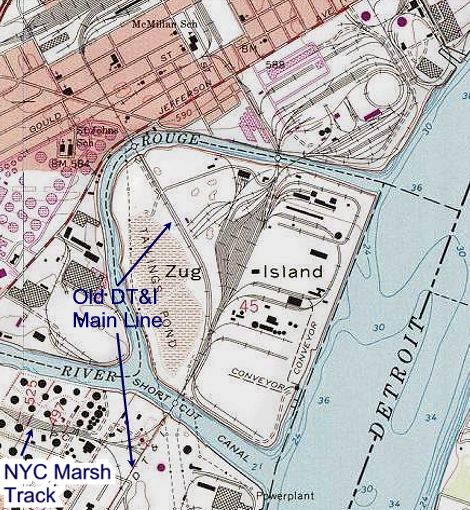 Zug Island was located south of the connection of the Detroit and Rouge Rivers in what could be best described at the time as a delta area of the rivers. The island was previously known as Brady Island, as noted on a 1895 county map.
In 1859, Samual Zug built a mansion here, but someone later cut through the south channel which provided a more direct connection of the Rouge River with the Detroit River. This made the location an island. Zug reportedly sold out to other interests and the now-island became an industrial dumping ground. In 1889, the area was cleared for the Detroit International Fair and Exposition, and in the early 1900's became an industrial home for chemical and steel production. [MPN]
Zug Island Yard was located on Zug Island and operated by the Delray Connecting railroad. [MCTC-1950]
Photo info: Top, the Delray Connecting Railroad Yard at Zug Island. The top photo from 1971, [Charles Geletzke Jr]. 2nd photo, on a dreary day in the mid-1950's. [Stan Poukett/Chalres Geletzke Jr. collection]. Next, photos of some of the bridges connecting railroads on the island with the main land. 3rd photo, the short and long bridges in 1971. 4th photo, the long bridge in 1971. [Charles Geletzke, Jr]. 5th photo, the Delray Connecting Railroad car shop at Zug Island, date unknown. [Charles Geletzke, Jr]. 6th photo, a USGS map showing the island and its rail facilities. At one time, the Detroit, Toledo & Ironton Railroad (and predecessors) reached the City of Detroit (to Delray) by way of what later became Zug Island. The island was carved out when the Short Cut Canal was created to bring lake ships into the Ford Rouge complex.