Mine: Wickwire Mine, Stambaugh, MI
---
Began → Wickwire Mine → Hiawatha No. 1 Mine
From: 1911
Location: NE-NW and NW-NE Sec. 35 of T42N-R35W. NW-NE Sec. 35 is now included in Hiawatha No. 1
Owned by: Wickwire Mining Co., later Hanna Iron Ore Co.
Produced: Iron Ore, medium, red-borwn, high phosphorus.
Method: Underground worked by slicing and caving methods. Depth of 313 feet.
Railroad connection: C&NW to port of Escanaba.
Until: 1917
Lifetime Production: 128,869 tons from 1911-1917.
---
In 1950's, a part of the Hiawatha No. 1 mine. [LSIO-1950]
---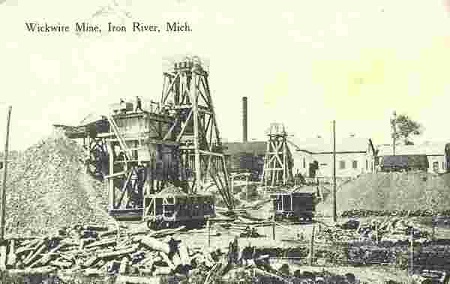 Photo Info: A photograph of the Wickwire Mine in 1915.