Mine: Tully Mine, Stambaugh, MI
---
Began → Tully Mine → Bengal Tully Mine → Cannon Mine
From: 1910
Owned by: Corrigan McKinney Steel Co.
Produced: Iron Ore
Method: Underground; 3 shafts each up to 700' in depth, 4 levels. Connected with Baker Mine.
Railroad connection: C&NW and MILW
Stamp Mill/Pellet Plant:
Until: 1926. In 1949, combined with Bengal-Tully Mine, continued to produce. Became Cannon Mine in 1956.
Long/Lat: 46.07417, -88.62333
Lifetime Production: 1.2 million tons between 1910 and 1926
---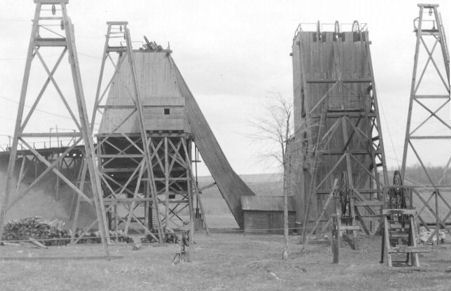 Photo info: An early view of the Tully Mine at Stambaugh. [MINART]
The Tully mine worked Young's ore body of the Riverton Iron-Formation during 1910 through 1926, operated by Corrigan McKinney Steel Co. 1.2 million tons of iron ore were shipped during this period. In 1949 the Hanna Iron Ore Co. combined the mine with the Bengal Mine to form the Bengal-Tully Mine, and in 1953, the complex was renamed Cannon Mine.

The Tully mine used three shafts of 700 ft depth, and four levels, with connection to the neighboring Baker Mine.

The property description Shaft #1 is S1/2-SE Sec. 36 T43N-R35W, which is 80 acres between N46º4'22", N46º4'35", W88º37'0", and W88º37'37". Shaft #2 was approximately 40 meters south and Shaft #3 was approximately 300 meters east. [MINDAT]
---
Time Line
1911. The work at the Tully consists in sinking a shaft from surface through the overburden of 160 feet to the ledge. This work is almost finished, after sinking through 80 feet of hard pan, then through 80 feet of quicksand and handling 1,200 gallons of water per minute. This mine, as well as all the idle mines of the Corrigan, McKinney & Co. control, has complete surface equipment. [LSMI-1911]
1918. MILW had a railroad tower operator here on the day shift. [TRT] The location or reason for the tower is unknown.