Mine: Tobin Mine, Crystal Falls, MI
---
Began → Tobin Mine → Became
From: 1901
Location: SW Section 30 of T43N-R32W
Owned by: Republic Steel Corp.
Produced: Iron Ore, semi-hard, reddish-brown, hogh phosphorus. Crushed.
Method: Underground, by sub-level stoping method. Depth: 1,783 feet. Worked in conjunction with the Columbia Mine. Some open pit mining.
Railroad connection: C&NW to port of Escanaba.
Until:
Lifetime Production: 1901-1950 shipped 4,630,052 tons.
---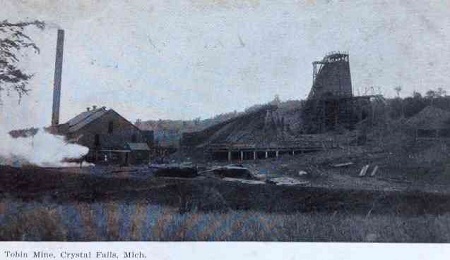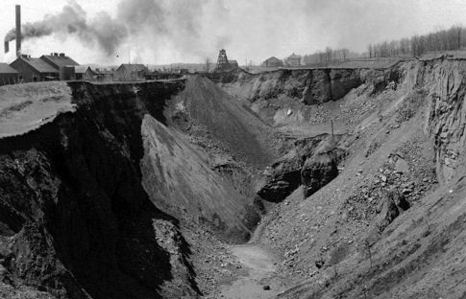 The Tobin Mine was located in Crystal Falls in Iron county. The mine was originally worked in 1891 and began producing heavily in 1901. Shipments continued periodically until 1960. The mine was worked jointly with the Columbia and West Columbia mines nearby. The mine site is about 1 mile southwest of downtown Crystal Falls.
Location: In the southwest part of Section 30, T43N-R32W. Aboutt 160 acres. The mne lies in the south half of this area and the main shaft is actually in NE-NW Section 31.
Coordinates: N46.5.12, N46-5-38, W88-21-24 and W88-22-1. [MINDAT]
---
Photo Info: Top, the Tobin Mine in 1911. Bottom photo, a major cave in at the mine, date unknown. 2nd photo, [MINART]
---
Time Line
1911. The Tobin Mine has been opened to a depth of 1,100 feet, mining now to the eleventh level. From this level a winze has been sunk another 125 feet and crosscutting is now in progress to the shaft, thus making the twelfth level. This mine is electrically equipped, having electric haulage on the stockpile and underground.
The main shaft is 6' 6"x22' inside measurements, and four compartments. The main hoist is a twin Corliss Nordberg 20"x48", first motion. The man and timber hoist is a Marinette 16"x20", geared. The compressor is the Rand Imperial type of twenty-five drill capacity. The boilers are horizontal return tubular, four in the battery, with a total of five hundred horse power. At this plant the Green Fuel Economizer has been installed. Underground the water is handled by a Prescott triple expansion pump of 750 gallons capacity, with a Prescott compound of 500 gallons capacity as a relay. All the ore hoisted is crushed. [LSMI-1911]