Mine: Riverton Group Mines, Stambaugh, MI
---
Iron River Mine → Riverton Group Mine → Hiawatha No. 2 Mine
From:
Location: Riverton Mine (E 1/2-NE Section 35) and Iron River Mine (NW-NW Sec. 36 of T43N-R35W0; the Dober Mine (NW Sec. 1); the Duff Mine (E 1/2-NE Section 2 of T42N-R35W); the Isabella (SW-SW Section 36 of T43N-R35W). The Dober, Duff and Isabella are now part of the Hiawatha No. 2 mine.
Owned by: Oliver Iron Mining Co.
Produced: Iron Ore, soft, brown, high phosphorus and manganiferous.
Method: Underground. Depth 1,750 feet.
Railroad connection: C&NW to Port of Escanaba.
Until: 1937
Lifetime Production: 5,881,550 tons between 1882 and 1937.
---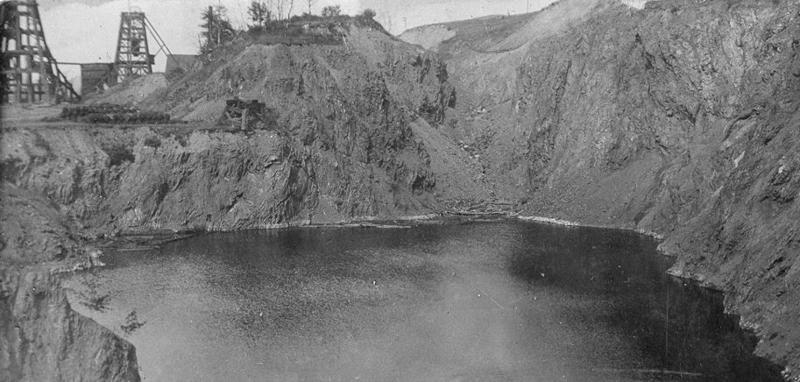 Formerly Iron River Mine.
Leases on Dober, Duff and Isabella surrendered in 1933 and new leases taken by the M.A. Hanna Co. to form the Hiawatha No. 2 mine which has shipped since 1935. [LSIO]
Photo info: The mine pit, filled with water, aftrer production had stopped. Note the nearby mining equipment. [MINART]