Mine: Odgers Mine, Crystal Falls, MI
---
Began → Odgers Mine → Became
From: 1916
Location: S 1/2-NE Sec. 30 of T43N-R32W
Owned by: Corrigan McKinney Steel Co. which merged with Republic Steel Corp. in 1935. Lease surrendered in 1936.
Produced: Iron Ore, soft, reddish-brown, high phosphorus. Crushed.
Method: Underground, worked by stoping method. Depth: 868 feet.
Railroad connection: C&NW and MILW to port of Escanaba.
Until: 1935
Lifetime Production: 2,101,381 tons between 1916 and 1935.
[LSIO-1950]
---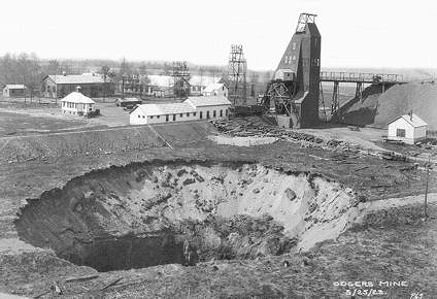 80 acres in Section 30, T43N-R32W. [MINDAT]
Coordinates: Between N46-5-39, N46-5-52, W88-20-47 and W33-21-24.
Photo Info/Credit: The shaft house at the Odgers Mine. Note the serious cave in at the site. 1923 [MINART]