Mine: Homer Mine, Iron River, MI
---
McGovern, Keweenaw and Minckler Mines → Cardiff Mine → Homer Mine → Became
From: 1914
Location: W 1/2-NW, NW-SW Sec. 23 of T43N-R35W (Homer); Cardiff Mine, made up of E 1/2-NE (McGovern) and N 1/2 SE and SW-NE Sec. 22 of T43N-R35W (Keweenaw); and NE-SW and W 1/2 NW-SE Sec. 23 of T43N-R35W (Minckler).
Owned by: Buffalo Iron Mining Co.; later Hanna Iron Ore Co.
Produced: Iron Ore, medium red-brown, high phosphorus.
Method: Underground, worked by sub-stoping method. Depth: 1,108 feet.
Railroad connection: C&NW to ore dock in Escanaba.
Until:
Lifetime Production: 6,921,032 tons between 1915-1950. Continues.
[LSIO-1950]
---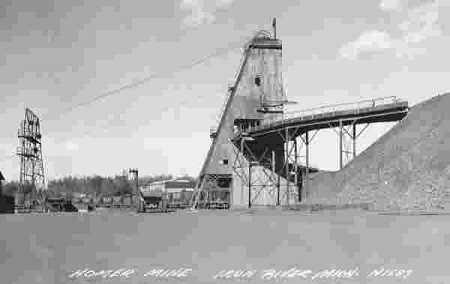 The Homer Mine was located in Mineral Hills, north of Iron River in Iron County.
---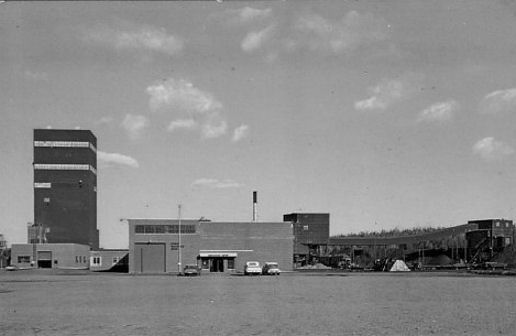 Photo Info: Top, the Homer River Mine. 2nd photo, a modern version of the complex in the 1950's. [MINARC]