Mine: Fortune Lake Mine, Crystal Falls
---
Began → Fortune Lake Mine → Became
From: 1915
Location: SW-NE and NE-NE Sec. 26, N 1/2-NW Sec. 25 and S 1/2-SW Sec. 24 of T43N-R33W
Owned by: Fortune Lake Mining Co. (Oglebay, Norton & Co. agent).
Produced: Iron Ore, semi-hard, high in phosphorus, 2% manganese.
Method: Underground and open pit.
Railroad connection: MILW to Escanaba ore dock.
Until: 1920
Lifetime Production:
---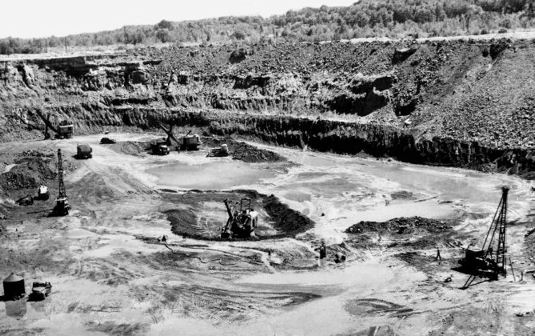 The Fortune Lake Mine was explored between 1915 and 1920 by the Fortune Lake Mining Company, then later operated as an open-pit iron mine by Pickands-Mather Company from 1953 to 1956. It was located about five miles west of Crystal Falls in Iron County.
Photo info/credit: The Fortune Lake Mine, west of Crystal Falls. [MINARC]
In 1950 [LSIO] noted that considerable drilling was done and a shaft sunk to a depth of 277 feet. This was held as a reserve; may be opened by stripping for underground milling operation.
[LSIO-1950]