Mine: Caspian Mine, Caspian, MI
---
Began → Caspian Mine → Closed (now museum)
Opened: 1903
Located: NE Sec. 1 of T42N-R35W
Owned by: Verona Mining Company → Pickens Mather Co.

Produced: Iron Ore, soft, red, brown, high hosphorus. Some ore crushed.
Method: Underground shaft, worked by stoping and slicing. Depth: 539 feet.
Railroad connection: C&NW, MILW
Until: 1937
Lifetime Production: 6,623,320 tons between 1903 and 1937.
---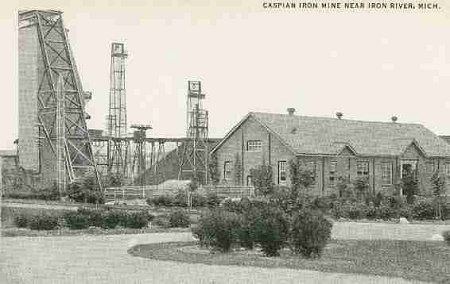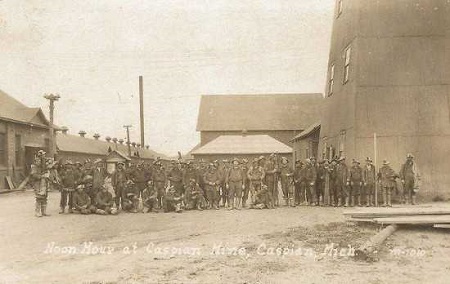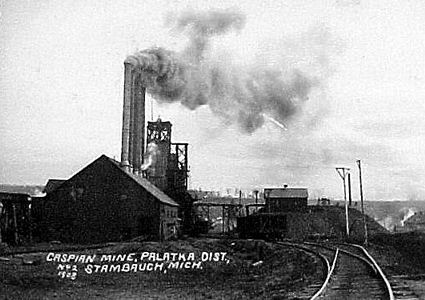 Original headframe or hoisthouse was replaced in 1920 with a steel structure which is 106' high, 25x10' at the base, tapering to about 10x10' at the top. Steel frame structure had tin sheeting. [UPM]
Powerhouse is now used as a museum.
The Caspian Mine was located in Caspian in Iron County and opened in 1903. [LSIO-1950]
Photo Info: Top and 2nd photos are postcard views of the Caspian Mine in 1930. 3rd photo is a 1910 view. [MINARC]
---
Time Line
1911. The Caspian mine is located on the N. E. ¼ of Section 1, Town 42, Range 35. The ore is a brown hematite, and the method of mining is the slicing or caving system. The property is thoroughly equipped with machinery. It has sixty-eight dwellings, and the company is at present erecting a handsome and modern club house for the use of its employees. The mine is opened to the 3rd level, being 292 feet deep, vertically, and is operated through three shafts, one being for the handling of ore and the other two for men and timber. The first shipment was made in 1903. [LSMI-1911]