Mine: Balkan-Judson Mine, Alpha, MI
---
Various (see below) → Balkan Mine → Closed
From: 1913 (Judson) and 1915 (Balkan). Formally seperate operations but connected later and all ore produced through Judson shaft.
Location: NE-NW, S 1/23-NW and N 1/2-SW Sec. 13 of T42N-R33W. Includes Alpha, NE-NW; Longyear, SE-NW; and McGovern, NE-SW Sec. 13. Formerly included Mastodon, NE Sec. 13.
Owned by: Balkan Mining Co. until 1935 when lease surrendered to fee owners. Interest by Inland Steel Co.
Produced: Iron Ore
Method: Underground, worked by stop;ing and slicing. Depth: 710 feet.
Railroad connection: C&NW to Escanaba dock. MILW to Escanaba dock (via E&LS).
Until: 1942
Lifetime Production: 4,441,799 tons between 1882-1942.
---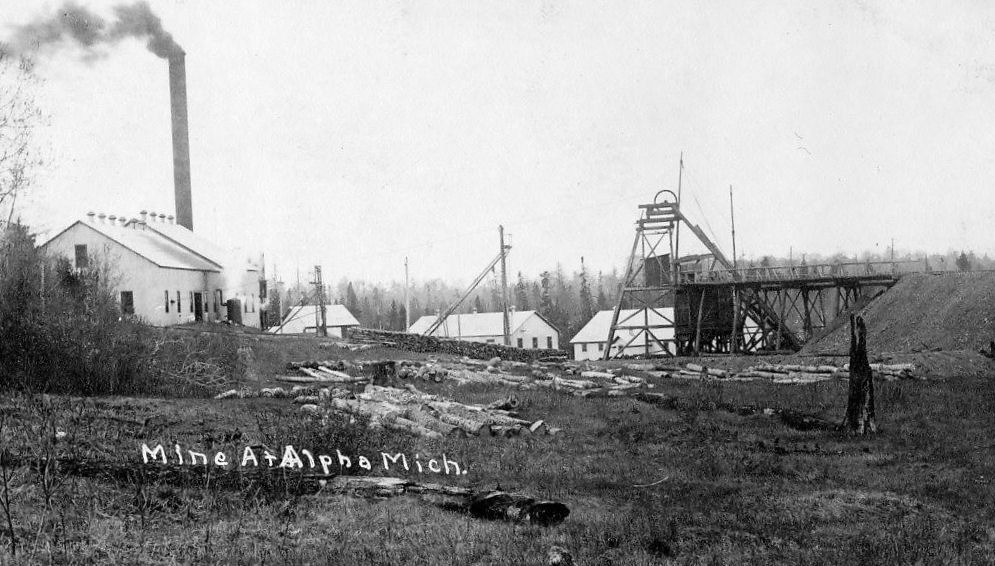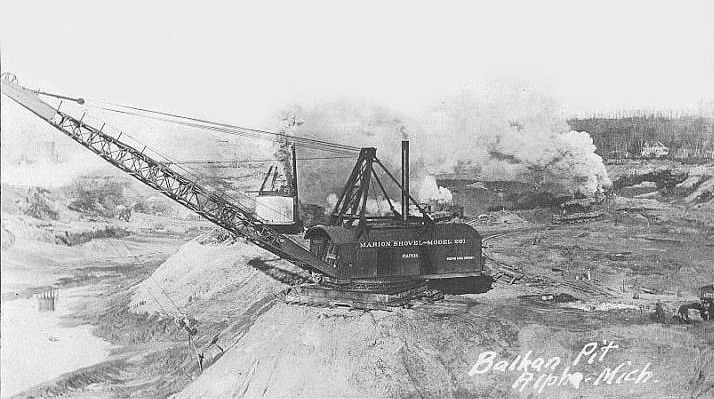 Photo Info: Top, this is identified as the Judson Mine in Alpha, date unknown. [MINARC]. 2nd photo, a large excavator/shovel works at the Balkan open pit Judson Mine mine at Alpha in the early 1900's. [MINART]
---
Time Line
July 14, 1914 - Balkan Mine, Palatka, Iron Co. - Water rush in rise causes 7 fatalities
---
Mines combined into the Balkan-Judson Mine:
Alpha: NE-NW Sec. 13 T42N-R33W
Longyear: SE-NW Sec. 13 T42N-R33W
McGovern: NE-SW Sec. 13 T42N-R33W
Mastodon: NE Sec. 13 T42N-R33W
The Balkan-Judson Mine was located in Alpha, Michigan in Iron County.
[LSIO-1950]