Mine: Ahmeek Mine.
Began → Ahmeek Mine → Became
From: 1903
Owned by: Ahmeek Mining Company. Merged with C&H in 1923.
Produced: Copper Ore
Method: Underground shafts.
Railroad connection:
Stamp Mill/Smelter: Aheek Mill.
Until: Operations suspected in 1931. Reopened from 1936 to 1966.
Lifetime Production:
---
4 incline shafts worked to a depth of 3,000 feet. Shafts 3 and 4 were worked from a common shafthouse. [Mindat]
Ahmeek Mine website on Wikipedia, click here.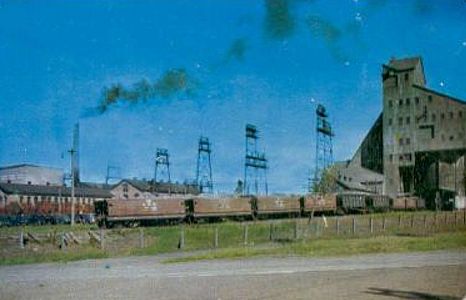 Ahmeek Mine was located near Ahmeek, which is just north of Calumet into Keweenaw County. C&H gained control in 1909 and then merged with it in 1923. [UPM]
The mine was established by the Ahmeek Mining Company in 1880 and ran intermittently until 1903 when the Kearsage Lode was located and then became a substantial producer. The Calumet and Hecla gained control in 1909 and merged with it in 1923. There were a total of four mine shafts. [UPM]
Photo info/credit: Railroad cars outside the Ahmeek Mine in 1951.
Shaft No. 1 - Located on First Street in Ahmeek, this shaft was sunk in 1880 and operated until 1903.
Shaft No. 2 - Was sunk between 1905-1907. [UPM]
Shaft No. 3 & 4 were sunk in different 80o angles but came up to a single headframe and rockhouse. [UPM]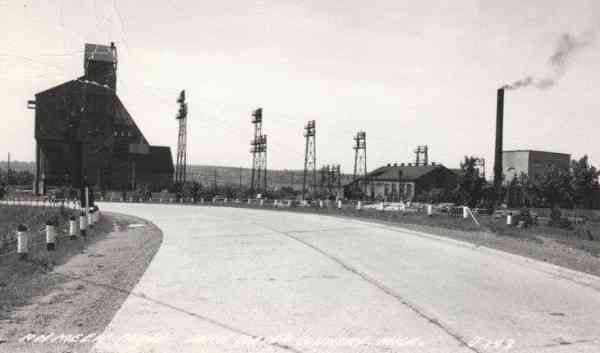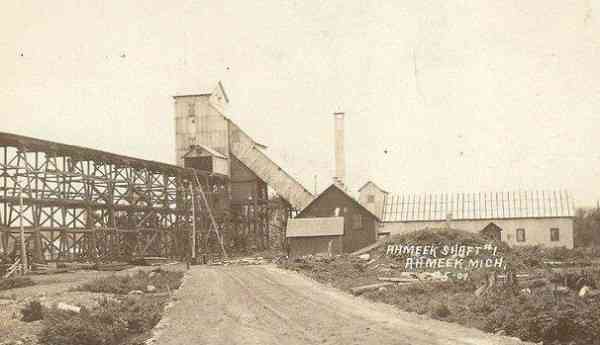 Photo Info/Credits: Two more photos of the Ahmeek Mine, the top taken in 1941.