Station: Munising, MI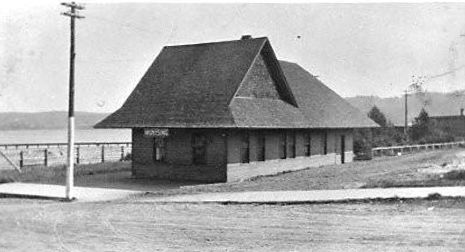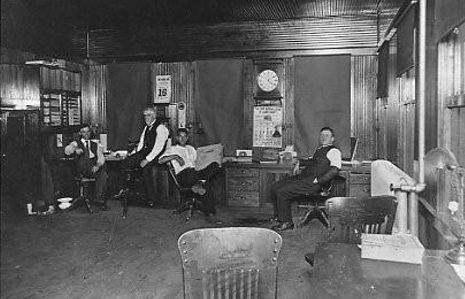 The City of Munising became the county seat of Alger County when the county was formed in 1885. The city is located on South Bay of Lake Superior west of Pictured Rocks National Lakeshore. The town was founded in 1850 when the Munising Iron Company bought land and platted the Village [MPN]. The city became home base for logging operations inland as well as on Grand Island on the opposite side of the bay. Later, the city became a producer of paper products.
The city was served for many years by the Munising Railway, which became a part of the Lake Superior & Ishpeming company which was owned by Cleveland Cliffs. Cliffs used this part of their railroad to move timber to the Marquette Iron Range for mine supports and charcoal.
The railroad had a 2-stall drive through engine house here.
When the LS&I discontinued operations between Munising Junction and Marquette, the railroad continued to run this isolated line to Munising primarily to support paper plant operations. The short line ownership then transferred to various owners and is now operated as a continuous Canadian National Railway branch line from Trout Lake to Munising via Newberry. Service is approximately three round trips per week.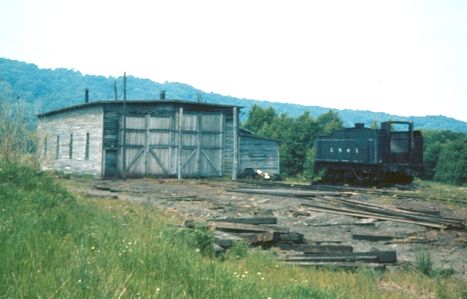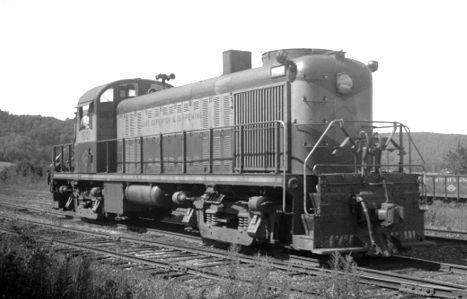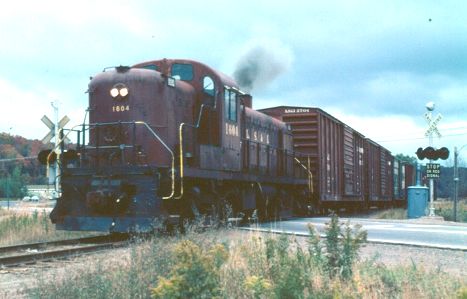 During the diesel years, the LS&I assigned Alco road switcher locomotives to this branch line. Two photos below show the Alco units in operation in and around Munising.
Photo Info/Credit: Top two photos, the LS&I depot at Munising, an exterior view and an interview with the clerical staff posing for the camera. Dale unknown. [Paul Petosky collection]. Next, the old LS&I two-bay engine house at Munising in 1972. An old locomotive tender is stored on an adjacent track. [Greg Bunce]. Next, a black and white photo of the LS&I 1501 switches the Kimberly Clark plant in Munising in 1963. [Mark Andersen]. Next, a 1981 color photograph of the 1604 heading with loaded boxcars towards the Soo Line interchange at Munising Junction. [Greg Bunce] Bottom, a early 1900's photo of a Munising, Marquette & Eastern railroad logging train in the Munising area. [CCIH]
---
Depot Burns - 1956. The Lake Superior & Ishpeming passenger and connecting Railway Express Agency office burned Thursday. Damage was not estimated. Firefighters fought the blaze for two hours before bringing it under control. [LDN-1956-1123]
---
Industries
CCI Lumber Department. The CCI lumber department supplied 200 to 250 cords of wood daily for each of their two Pioneer charcoal furhaces which were build in 1857. Lumber was cut from the Munising area (and other areas), placed on the nearest railroad in 4 foot to 52" lengths and shipped to furnaces. Wood was also supplied for the manufacture of furniture, hard wood flooring, veneering, ties, poles, pulpwood, shingles and wooden ware. Bark from hemlock was also removed and sent to tanneries. By the 1920's, the two furnace plants (Marquette and Garden) each had the capacity of 300 cords in ten hours. [CCIH]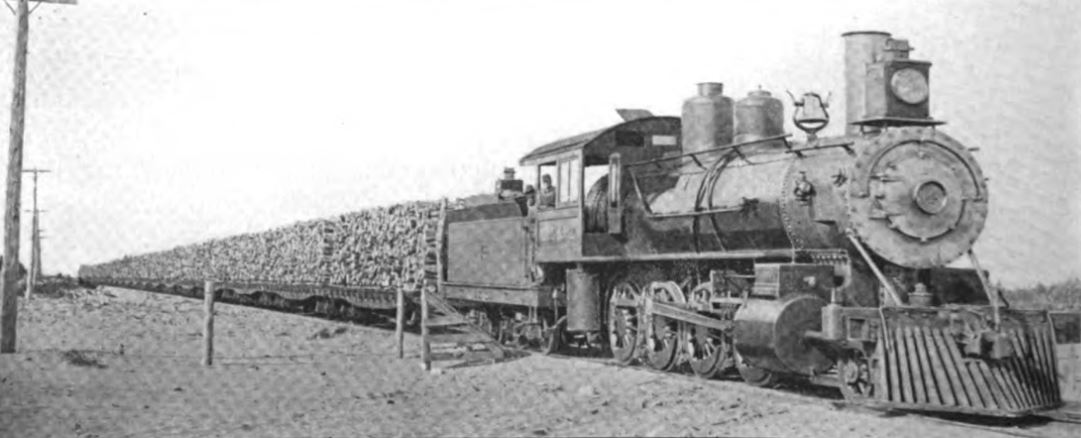 The Munising Paper Company. The company was created by The Cleveland-Cliffs Iron CDompany and others and a plant was constructed in Munising in 1902. The company produced wrapping paper from hemlock. A bleaching plant was installed to produce fine quality bond writing paper with annual production of 15,000 tons of paper in the 1920's. The paper was made from hemlock logs, spruce and hemlock pulp wood, and slabs from nearby sawmills.[CCIH]
The Munising Woodenware Company. Cleveland-Cliffs Iron Company provided logs to the Great Lakes Veneer Company, which operated a veneer mill at Grand Marais. The plant was moved to Munising in 1908. CCI acquired an interest and changed the name to Munising Veneer Company in 1912. In 1911, The woodenware company was organized and manufactured bowls, rolling pins, and miscellaneous woodenware articles made from birch and maple logs. Later a closepin department was added. The two plants were consolidated in 1917 and butter-dish machinery was installed. In 1920, the plant received a new power plant, enlargement of the clothespin department, and installation of modern saws and tools. [CCIH]
Cleveland Cliffs Iron Co. Lumber Plant (MM&SW) 1923
George L. Burtis Saw Mill - lumber mill on waterfront. 1897
Jackson & Tindle Lumber Plant (MRy) 1923
Jackson & Tindle Box Plant - Pre 1923
Michigan Tanning & Extract Co. (MRy) 1917
Munising Company (MRy) - saw shingle, lath and planing mills - 1917
Munising Leather Company. 1897
Munising Paper Company, 1906
Munising Wooden Ware Co. (MRy) 1917
Grand Island Lumber Co. saw mill. 1897
Superior Lumber & Cedar Co. 1917 (successor to Superior Veneer below)
Superior Veneer & Cooperage Co. 1806
Sutherland-Innes Co. Ltd. lumber mill on waterfront. 1897