Station: Alpena, MI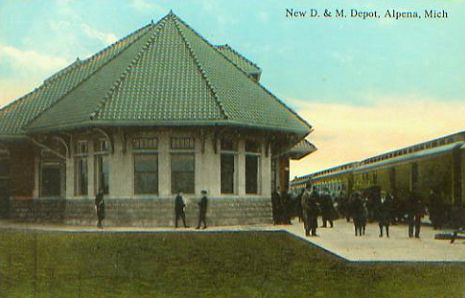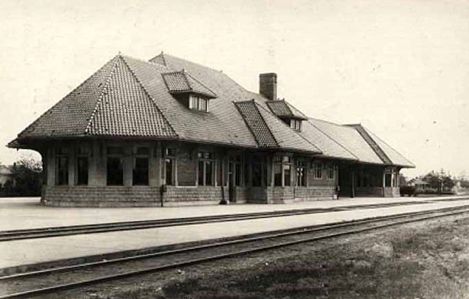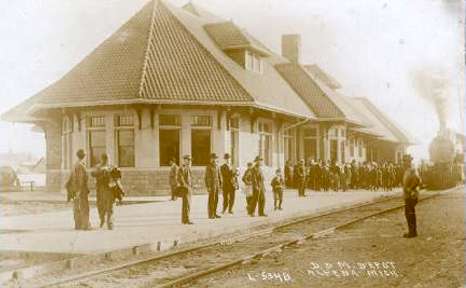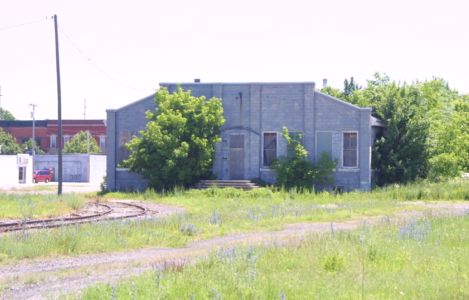 Alpena was settled around 1835 and originally called Freemont but was changed by the post office to Alpena. [MPN] The first railroad communications from the south came in 1886 with the arrival of the Detroit, Bay City & Alpena. The Alpena & Northern railroad was constructed northwest into the forests around 1893 after the area became a logging center at the mouth of the Thunder Bay River.The Huron Portland Cement Company began producing cement from the region's large limestone deposits in 1907. The Boyne City, Gaylord & Alpena railroad entered Alpena in about 1915.
Alpena had several railroad depots over the years for all three railroads. But quickly, the new D&M depot became the terminal for passenger trains to and from points in the lower peninsula and beyond. The D&M also had a sizeable freight house on the north side of the river not far from Fletcher paper facilities. The building continues to exist, used as a restaurant.
Photo Info/Credits: Top, a postcard view of the new depot with a northbound train. Next, a black and white photo possibly taken for tax valuation purposes of the new depot. [Both, Alan Loftis collection] The third photo is an early shot of the depot with a northbound train and quite a crowd standing by. This photo was later made into a colorized postcard. [Dale Berry] Bottom, a view of the freight house. The track going east on the left of the building is the approximate location of the A&N main line. At the time of this photo in the mid-1980's, it was an industrial spur to the former Fletcher paper mill on Alpena Bay. [Dale Berry]
Industry:
A. J. Thomson Shingle Mill (DM)
Albert Pack Saw Mill (DM)
Alpena Cedar Co. (DM - cedar posts)
Alpena Excelsior Co. (DM - 1898)
Alpena HIde and Leather Co. (DM - 1895)
Alpena Motor Car Company
Alpena Municipal Water Works and Electric Plant (DM)
Alpena Planing Mill Co. (DM)
Alpena Portland Cement Co. (DM - 1899)
Alpena Roller Flouring Mill (DM) - flour mill built 1900 S. 9th st.
Alpena Slat & Crating Co. (DM) built 1895
Alpena Spool Company (DM) built 1890
Alpena Sulphite Fiber Co. (DM)
Alplena Woolen Mill Co. (DM) built 1896 - N. 10th St. n/Minor St.
A. W. Brown Excelsior Mill (DM) - 1897
Besser Churchill Co. (DM - stave, shingle and ties)
C. Moench & Sons Tannery (DM) built 1895
Comstock Bros. Saw Mill (DM)
Eales Brothers Shingle Mill (DM) 1901
Excelsior Ware Housed and Mill (DM) 1898
Fletcher Paper Mill (DM) (corner of Bay and river)
Fletcher Paper Co. ground wood pulp mill (&M) near dam. Built 1899.
F. W. Gilcrest Saw Mill; Hardwood Planning Mill (DM)
Island Mill Lumber Co. (DM) south side of river on W. River St. at N. 6th St.
J.M. Johnson & Son. flour mill & planing mill (D&M)
Michigan Alkali Co. (DM - stone works)
Michigan Veneer Co. (DM - 1899)
Morse Manufacturing Co. Saw and Shingle Mill (DM)
Northern Extract Co. (DM - extract from hemlock bark)
Richardson & Son Lumber Co. (DM) built 1872 River and 3rd St.
Sioux City Seed Company (DM)
Sulphite Fiber Works (DM) 1901 (near Fletcher Paper)
Walker Veneer and Panel Works (DM) 1897-1898
Note: Alpena had many saw mills and related organizations which were based on the Thunder Bay River and did not have railroad service, especially before 1890. These facilities are not included in this list.
---
Books and Articles

: