Interlocking: Tower 12, Bay City, MI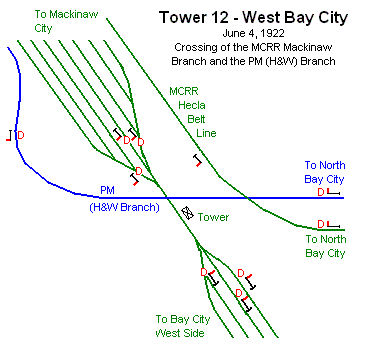 Tower 12 in Bay City was located on the busy north/south Michigan Central branch line which ran from Bay City north to the Straits of Mackinaw. Tower 12 was located near Wilder Road where two east/west industrial spurs crossed the MC. The first road was the Huron & Western railroad, a Pere Marquette route which ran from North Bay City west to some coal mines west of town. The second cross route was a MC industrial line called the Hecla Belt Line railroad, which ran from the Hecla cement works on Saginaw Bay west to MC's Wenona Yard. According to records in the State of Michigan Archives, the PM H&W branch was removed on February 26, 1929 and the tower at Tower 12 was removed.
Photo info/credit: Two views of Tower 12, the top from 1902 and the bottom from 1922. [Both, by Dale Berry from blueprints in the State of Michigan Archives].