Location: Kneeland-Bigelow Company Mills, Bay City, MI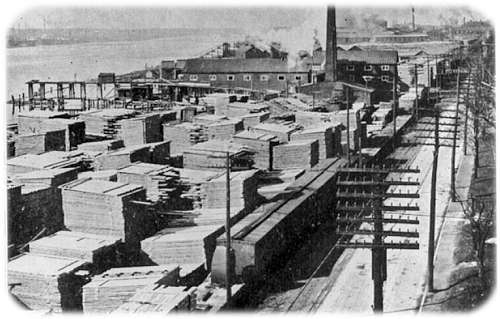 The Kneeland-Bigelow lumber interests were created about 1900 to harvest hard woods from the forests in Montmorency and Otsego counties in the northern lower peninsula. The operation was a successor to the Michelson-Hanson operations which harvested pine from the same forests.
While M-H milled their pine logs in Lewiston, close by the forests, Kneeland-Bigelow transported their hardwoods by railroad south to Bay City for milling. The company owned at least three mills on the Saginaw River, including a hardwood flooring plant.
K-B purchased their first mill, Plant 1, in 1901 on South Water Street, between 19th and 21st streets. Maps from 1879 and 1891 show this as being the Rust and Company sawmill. This plant was served by the MC.
Plant No. 2 was known as the Belinda Plant, which was located along North Water Street between Sherman and Belinda streets. This had been purchased from the Wylie-Buell interests and had been previously known as the Detroit Mill. This mill was destroyed by fire in 1925 at which point K-B contracted with the Island Lumber Company (on Middle Ground Island) to refine their product. The Belinda plant was served by the MC and likely the PM.
A Plant No. 3 was located at 800 Marquette Street in Bay City and used to produce hardwood flooring. This included 23 drying kilns.
The output from these mills were sold mainly in Michigan and Ohio.
In addition to planed lumber, the company also produced numerous other products including railroad ties, wooden water pipes for municipalities, wood chemicals and many other products.
Most of the lumber brought into these plants came off the Michigan Central railroad. The railroad assembled loaded flat cars near Lewiston, transported them to Grayling where they were added to the daily southbound freight trains. K-B shipped about 30 loaded log cars daily between the northern lower peninsula and the Bay City plants.
Source:
Lumbering in Early Twentieth Century Michigan - The Kneeland-Bigelow Company Experience. By Herman Lunden Miller, Walnut Hill Press, c.1995. [LIEM]