Station: St. Joseph, MI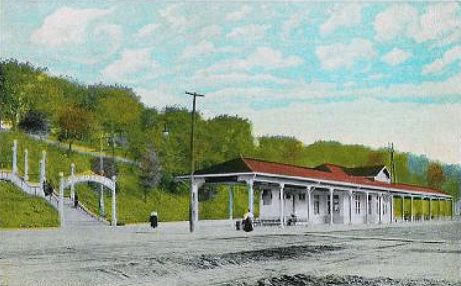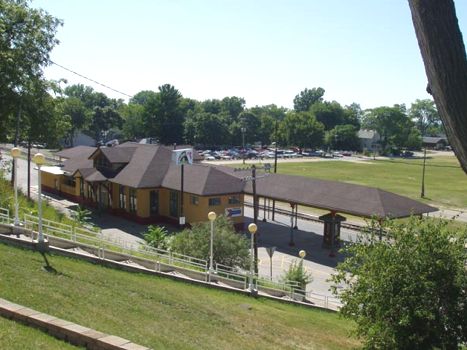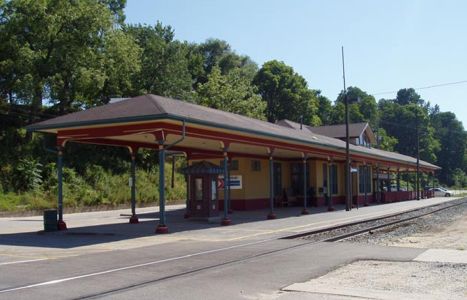 St. Joseph, in Berrien County was settled in 1679 b the French, which built Fort Miami here. The settlement was called Saranac in 1827, and renamed Newburyport. In 1829, the name was changed to St. Joseph. It was incorporated as a village in 1834 and a city in 1891. [MPN]. St. Joseph, along with its neighbor Benton Harbor, was a major commercial center on Lake Michigan.
The Pere Marquette main line from Grand Rapids to Chicago travelled through here, as did several other railroad branch lines. A Michigan Central branch line came up from South Bend, Indiana via Galien, Baroda and Benton Harbor to here. In nearby Benton Harbor, the PM had a branch line south to Buchanan, and the Big Four had a branch line south to Niles and South Bend.
1920 - On the Michigan Central St. Joseph Branch, this is a passenger, freight and express agency joint with the American Railway Express Company. Interline tickets are issued. A. H. Anson is the passenger agent. A. A. Watson is the freight agent. The telegraph call sign is "BF", same as Benton Harbor. [MCOAS]
Photo info/credit: Top, a postcard view of the PM depot at St. Joseph. 2nd and 3rd photos, two current (2003) views of what is now the Amtrak station at St. Joseph. [Alan Loftis]
---
Key: D | J
---
Time Line:
1873 - The Chicago & Michigan Lake Shore railroad reported to the Michigan Railroad Commission that they had a 988 foot wooden draw bridge (with 2 draws) here over the St. Joseph River [MCR/1873]