Location: Marshall, MI - MCRR Facilities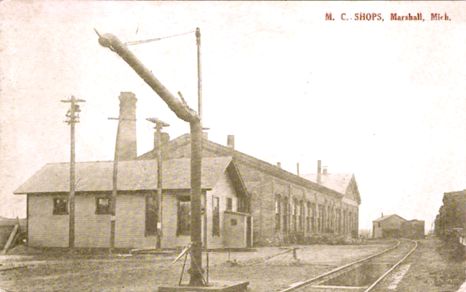 The Michigan Central railroad shops were located at Marshall but were moved to Jackson around 1871. The move was likely made for a number of reasons. By this time, Jackson was interchanging more freight and passenger traffic with connecting roads. Also, the Air Line (between Jackson and Niles) was nearing completion and had been purchased by the Michigan Central, giving them a second and possibly faster route for freight traffic to Niles. At this time, the MC main line was still single track and the capacity of the Air Line added to this.
Photo info/credit: This postcard suggests that this was the Michigan Central shops at Marshall. The DT&M, later owned by the MC also had shops at Marshall. The identity of these buildings have not been confirmed.
The MC had a water tower and standpipe at Marshall (see photo).
---
Timeline
1946. The NYC freight house in Marshall burned down. It was a sheet metal and wood structure more than 50 years old, a loss of $50,000 including records, office equipment and large freight shipments. The fire was believed to have been started by spontaneous combustion. The fire department had six lines of hose and merely kept the fire from spreading to surrounding buildings. The blaze was punctuated by an explosion when drums of oil, paint, railroad torpedoes and .22 shells in the building blew up. [BCE-1947-0105]
1947. The New York Central railroad begins construction of a new freight house, replacing the one destroyed by fire. At a cost of $35,000 it will be 120 feet long and 30 feet wide with an office at the west end facing Kalamazoo Avenue and a 30 foot cement unloading dock at the east end. It was built by Lamb Construction Co. of Holland. [BCE-1947-0105]