Station:  Boyne Falls, MI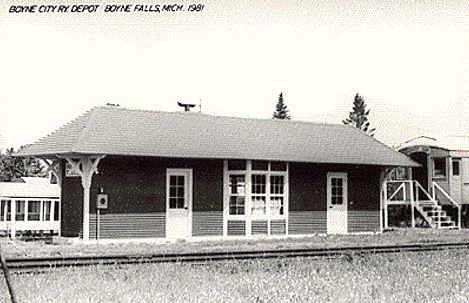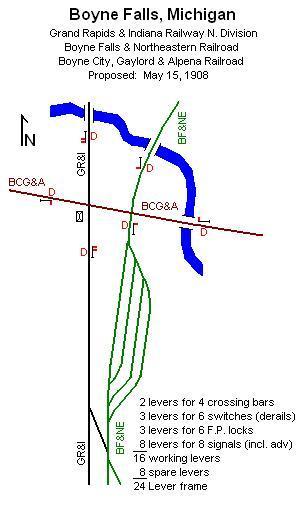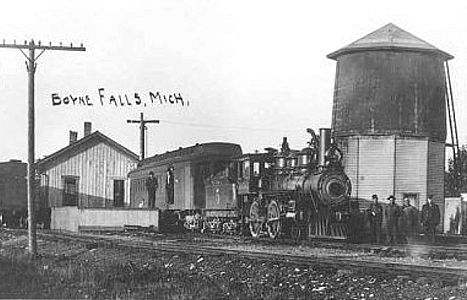 Boyne Falls, in Charlevoix County, was settled in 1856. It was called Boyne for a time and renamed Boyne Falls in 1893. [MPN] This was a station stop on the Grand Rapids & Indiana railroad on their main line between Grand Rapids and Mackinaw City. The town was also served by the Boyne Falls and Northeastern railroad (a narrow gauge logging road) and nearby by the Boyne City, Gaylord & Alpena railroad (at Moore).
Bruce Gathman, in 2002 commented that it is likely that the interlocking tower was built here because the foundation for the structure is still in existance. He noted that the east-west banch was used by the White Lumber Company. It came off the BCG&A about two miles to the west. He also noted that the BF&NE had a four-stall engine house and other tracks and structures here, in addition to what is shown on the map.
Photo info/credits: Top, the GR&I depot, taken in 1981 in a postcard view. Below that, a map, drawn from the interlocker files at the State of Michigan Archives, showing the 3 roads. The east-west BCG&A line was likely a logging branch. [Dale Berry] Bottom, a postcard view of a 1-car passenger train near the water tower at Boyne Falls, date unknown.