Station: Trout Lake, MI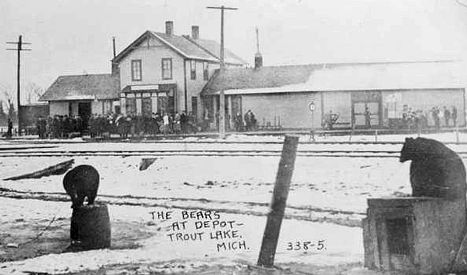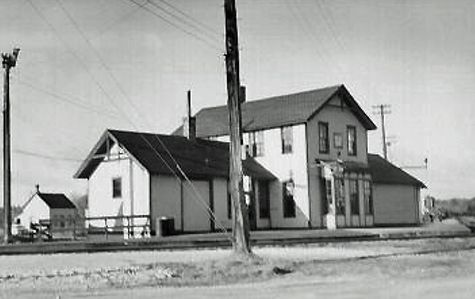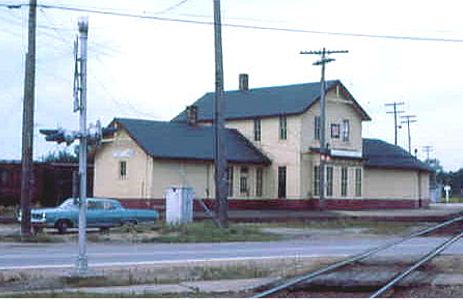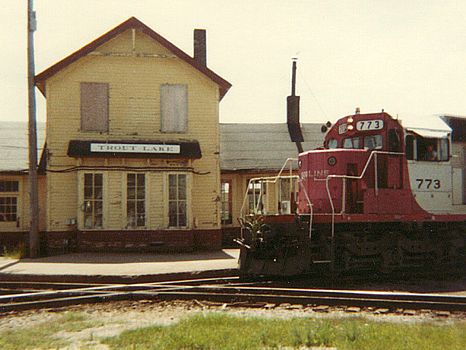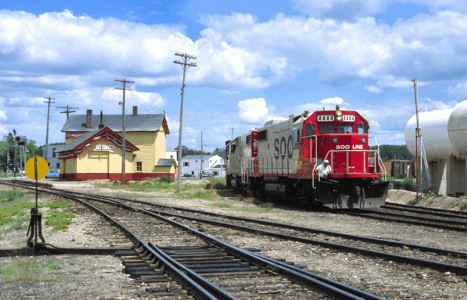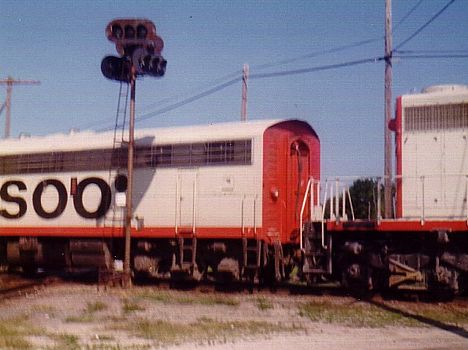 Trout Lake, in Chippewa County, was a fairly busy junction/crossing of the Duluth, South Shore & Atlantic main line from St. Ignace to Marquette, and the Soo Line railroad main line between Sault Ste. Marie and Gladstone/Escanaba. It was settled as a town in 1881. [MPN]
Photo info/credits: Top, watch out for the bears as they keep watch themselves on the passengers waiting for the Soo Line train at Trout Lake. 2nd photo, another photo of the depot taken in the 1940's or 1950's. [Alan Loftis collection]. 3rd photo, a color photo of the depot in the mid-1970's. [Charlie Whiipp]. 4th photo, Soo Line 773 passes the front of the depot eastbound on the Soo Line main line in 1980. [Timothy Tryon]. 5th photo, Soo Line 4444 rounds the wye from St. Ignance and heads west. 1981 [Neil Plagens, Mark Andersen collection]. 6th photo, the 4-way train order signal at the Trout Lake depot and crossing, in 1974. [Larry Gibson]
Time Line:
1881 - The DSS&A builds their main line from St. Ignace to Marquette through the area and Trout Lake is settled.
1888 - The Soo Line completes their line from Gladstone to Sault Ste. Marie, crossing the DSS&A here.
1893 - The Newberry News, on October 13th, reports a story from a passenger arriving on the Soo Line train in Sault Ste. Marie that there is a gang of "confidence men and thieves, if not cut throats" working the trains and passengers at Trout Lake. The leader of the gang is a fellow known as Dutchy, alias Hook, who rolled a passenger on the DSS&A train near West Superior of $600 two years ago and who tried to kill a Soo Line brakeman near Pennington when caught in the act of picking a woman's pocket. Trout Lake seems to be a rendezvous, although every resident there wants to get rid of them. The gang is the "worst" that ever operated in this vicinity and we have seen them all. Officers are laying for the outfit. [NEW/MIHX8]
1986 - The former DSS&A line from St. Ignace to Trout Lake is abandoned and removed. A short stub line south of the depot is maintained for car storage. The diamond is removed at the depot.
The Trout Lake DSS&A/Soo Line union station was built in 1907 and is likely the second station here. It is a large wood-framed structure which served as a passenger station, freight house and hotel. It consists of four adjouning segments, including two single-story setments each 35' long and 20' wide. Also a two-story section 20' squre and another single-story segment 20' by 15'. The building still exists in 2016'. [UPM]