Station: Frederic, MI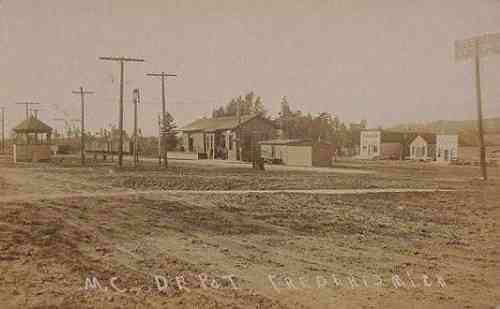 Frederic, in northern Crawford County, was settled about 1874 as a wood stop on the Michigan Central railroad. It was originally called Forest, then changed to Fredericville and then Frederick in 1886. [MPN]
Frederic was a station stop on the Michigan Central. The Detroit & Charlevoix branched off the MC here to 1901 and later became MC branch line. [MRL]
Photo Info/Credit: The Frederic depot and surrounding area in 1910.
The Lake State Railway has a siding two miles north of Frederic. This was formally at milepost 103 (from Bay City). The siding is used to store empty cars needed for customers in Gaylord. The siding is approximately 1,400 feet long (28 50' car lengths).
---
Time Line:
1873 - The railroad comes through here from Grayling.
1901 - The Detroit & Charlevoix is built northwest to East Jordan from here. It becomes a MC branch in 1907.
1917 - Freight wreck (see story below)
1932 - The former D&C branch line is abandoned.
---
Michigan Central 1917 wreck:
(From the Otsego Herald and Times, October 19, 1917).
Fourteen Cars Piled In A Heap
Took About 24 Hours to Clear Tracks and Get Traffic Moving Regularly
One of the worst freight wrecks which the Michigan Central has experience on its Mackinaw Division in a number of years took place at the long curve just north of Frederic on Tuesday morning of this week causing a blockage of the tracks for about 24 hours and not only causing a large property loss in the destruction of freight and cars, but also a serious delay to passenger and freight traffic on the road.
There were fourteen cars piled up in a promiscuous heap, and the contents of these cars intermixed with the wreckage of cars, making a tangled mess which was not easy to clean up. What make it all the worse was that in the wrecked cards there were three carloads of logs, which with the miscellaneous freight that was contained in the other cars, make a pile which required patience to clear the way.
Fortunately no one was injured and the only damage was to the freight cars and track.
The accident took place during Tuesday forenoon and was caused by some of the under parts of the cars giving way, a rid it is said, dropping down and causing the derailment car which the consequent wrecking of the others.
The Cannon Ball south on Tuesday went as far as the wreck and then returned to this place where it remained until late in the afternoon, then proceeding to Mackinaw. The 1:37 south went as far as the wreck where the mail and baggage and passengers were transferred to the northbound train and the two trains were turned around and crews interchanged and sent back over the sections they had come. The midnight Tuesday night left here southbound about 4:00 a.m. Wednesday going as far as Waters where it remained until there was an opening made in the debris and the tracks repaired, which was well toward 10 o'clock in the forenoon of Wednesday. The morning train north of Wednesday passed through here about 11 o'clock and about that time regular traffic was resumed over the line.