Location: Gladstone, MI - Soo Line Facilities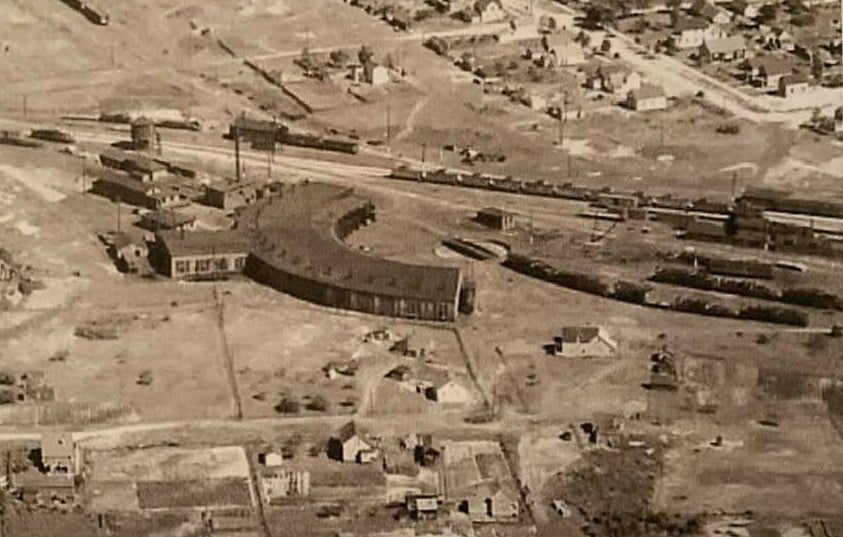 The Soo Line had a division point and offices at Gladstone, including locomotive servicing and car shops. The Soo Line had a large yard here which is still used by the Canadian National.
Photo Info/Credit. The roundhouse at Gladstone around 1949. [James LaVerdure collection]
Gladstone had an electric turntable.
Soo Gladstone station. This passenger station was built in 1887 when the Soo Line arrived in Gladstone. It was a two-story rectangular wood-framed building with a gambrel roof, 30' wide and 100' long. [UPM]
Soo Roundhouse. The Minneapolis, St. Paul and Sault Ste. Marie railroad was built around 1890 in Gladstone on Railway Avenue. It had 22 stalls 90' deep. The roundhouse doors were 12' wide. Overall this brick building measured 24' by 90' by 48'. It had a roof pitched to the rear. The turntable was electric powered and 90' long. 20 stalls were removed in the mid-1960's leaving two. [UPM]
---
Time Line
1961. About 11 Soo Line cars were derailed at Gladstone this morning when a freight train backed into a freight care coming off an adjacent track. The impact overturned about seven empty gondolas, a hopper, two empty tank cars, and a box car loaded with freight. The wreck will be cleared this afternoon. [EDP-1961-1018]