Station: Metropolitan, MI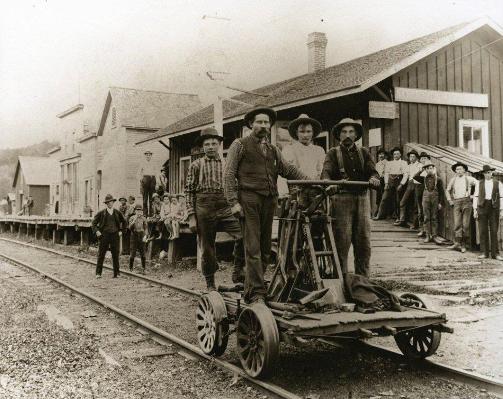 Metropolitan was a mining town at the west end of the Chicago & North Western Metropolitan/Felch branch in central Dickenson County. The village was platted by the Metropolitan Mining Company in 1881. It was originally in Marquette County, then transferred to Iron County in 1885 and to Dickenson County in 1891. This village was also known as Felch Mountain.
Photo Info/Credit: A section crew on the Metropolitan Branch of the C&NW, near the Metropolitan depot around 1910.
---
June 23,1885 - A.H. Butts, secretary of the Chicago lumber company, has just returned from the lumber camp near Metropolitan, Mich., a point in the pineries four miles north of Escanaba. He said the night before he left the camp the mercury had dropped 48 degrees below zero. This was the climax of four days of very extreme weather. That night an old trapper and Indian hunter named Tom Dudging, returning from hunting, was killed and eaten by wolves within two miles of camp. The wolves there are more numerous and bold than usual, on account of the scarcity of small game. His friends searching for him the next morning found his closely gnawed bones. Thirteen dead wolves were lying near him, pierced by his rifle balls, and his Winchester rifle by his side, with one chamber loaded. [Trenton Evening Times, NJ.]
1918. The C&NW had an agent operator here on the day shift. [TRT]