Station: Quinnesec, MI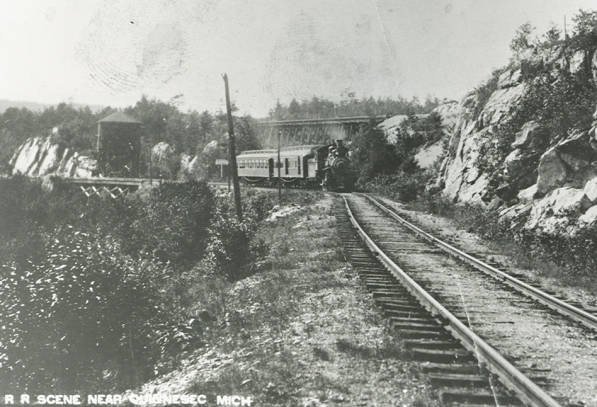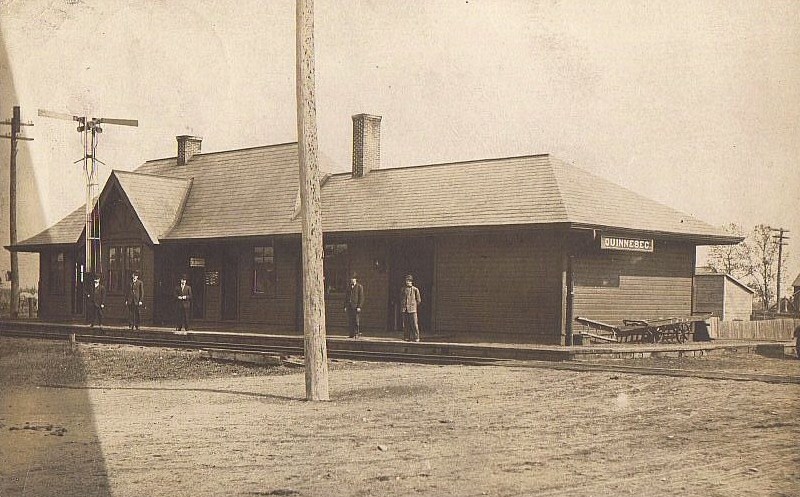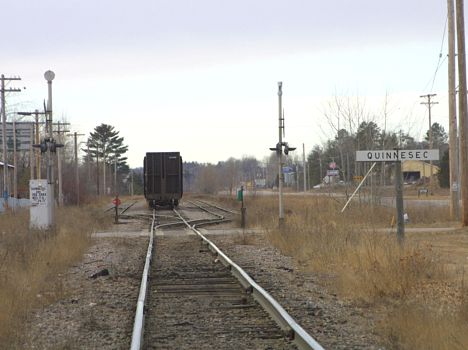 Quinnesec was founded in 1871 around the Quinnesec Mine. This village was was originally in Menominee County until Dickenson County was settled in 1871. The town was located on the Chicago & North Western railroad, but also had rail service from the W&M and possibly the Milwaukee Road.
In addition to its mining history, Quinnesec had a small yard for cars going to and from Niagara, WI via a short branch which crossed the Menominee River. This included forest products and coal inbound and paper products outbound. [CNWPD2]
Today, Quinnesec is home to the Verso paper plant, which is served by the CN railroad and one of the largest employers in the central upper peninsula.
Photo info/credit: Top, a Wisconsin & Michigan train heads east over Fumee Falls in 1911. [Dickenson Co Library collection]. 2nd photo, the Quinnesec depot about 1910. 3rd photo, the former C&NW small yard at Quinnesec. The CN and E&LS interchange at Iron Mountain about two miles west of this location. 2003. [Dale Berry]
---
The W&M had a water tower at Quinnesec, using water from Fumee Creek. (See the water tower in the first photo in 1911). The tank foundations are visible from US-2 at the roadside park at Fumee Falls. [GB]
---
Timelline:
1871 - Quinnesec settled as a mining town.
1985 - Champion International Corporation builds a large pulp and paper mill east of here, employing 520 people. It is now owned by Verso Paper.
1901 - The fact that the contract has been let for the extension of the C.M. & St. P. railroad from Iron Mountain to Quinnesec has caused quite a flutter in railroad and business circles. Mcintosh Bros, of Milwaukee, have the contract, and it is their purpose to at once begin clearing the right of way of all brush and timber, it being a provision of their contract that all such work is to be completed by the first of March. As soon thereafter as the weather will permit the construction work will be taken up and rushed to completion—the intention being to have regular trains running into Quinnesec by the middle or last of May. [Bessemer Herald, February 2, 1901]
1906 - A disastrous fire destroys the entire business district and several homes. Some of the establishments were rebuilt.
1918. The C&NW had an agent and telegraph operator at this station on the day shift. [TRT]