Station: Grand Ledge, MI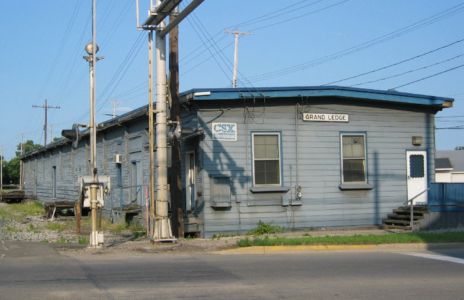 Grand Ledge, at the northern edge of Eaton County, was settled on the Grand River in 1831. The first permanent settlement here was in 1848. The town was incorporated as a village in 1871 and a city in 1893.
A line which later became the Pere Marquette from Lansing to Ionia came through here in 1869. This line was ultimately built west to Howard City in 1871 and east through Plymouth to Detroit in 1871. In 1888, the main line was routed along a new route from Grand Ledge west to Grand Rapids and beyond and the route to Howard City was reduced to a branch line. It was cut back to Ionia in 1942, Portland in 1983 and cut back further to just local industry in 1896. The main line to Grand Rapids, now under CSX ownership, continues to exist today.
Photo info/credit: The CSX freight house at Grand Ledge in 2004. [Nathan Nietering]
---
Timeline:
1881. The DL&N built a new water tower here. [DL&N-1881]
1891. In 1891 the DL&N passenger station was moved here from West Grand Ledge. [DL&N-1891]
1905.: The PM builds a new, heavier bridge at Grand Ledge, replacing a 469' previous version. [PMAR-1905]
1907. The PM annual report notes that a new Hall signal was erected here. [PMAR-1907]
---
Industry:
F. M. Blair Oil refinery. 1939-1941. Served by PM. [MW]