Station: Bessemer, MI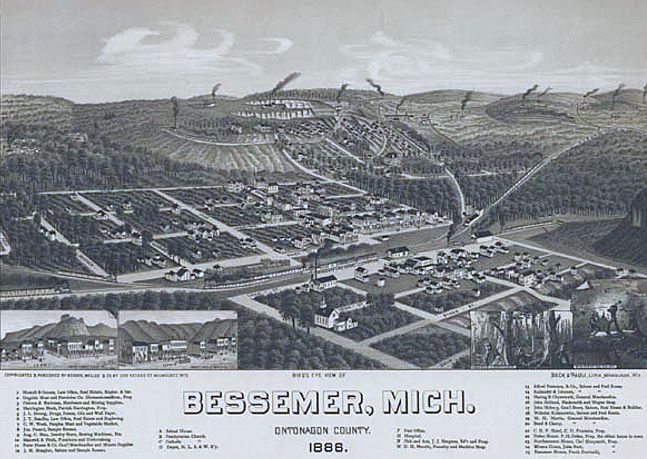 Bessemer was settled around 1880 after ore was discovered at the nearby Colby Mine. In 1884, the Milwaukee, Lake Shore & Western railroad (later C&NW) came to town making transportation of ore economical. Bessemer became a village in 1887 and a city in 1889. [MPN]
Photo Info/Credit: A panoramic view of Bessemer in 1888. The railroad is shown through the middle of town. The smoke in the distance is from area iron mines.
Other information:
Bessemer had a two-stall engine house as well as a sixty-foot turntable. [SOO-Sp/1996]
The C&NW Bessemer Station was at US-2 and Sophie Street and was built in 1890. [UPM]
Mine Street Railroad Bridge. The Wisconsin Bridge and Iron Company constructed a three-span railroad bridge here in 1899. It is 10' wide and 100' long, resting on two steel piers and concrete abutments. There are two steel deck girder approach spans, each 25' long and a single steel through-plate girder span 50' long. [UPM] The bridge still exists in 2016 (without rail).
First Street Railroad Bridge. This bridge was also constructed by the Wisconsin Bridge and Iron Company in 1896. It is 8' wide and 195' long. It consists of three spans resting on two steel piers and concrete abutments. The two approach spans 45' and 60' in length are steel deck girders while the main span is 90' in length and is a steel Pratt pony truss. [UPM]