Station: Ironwood, MI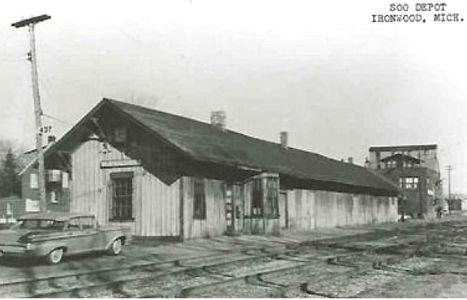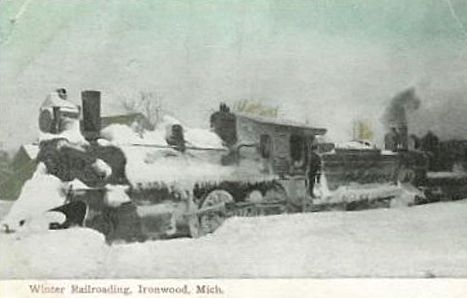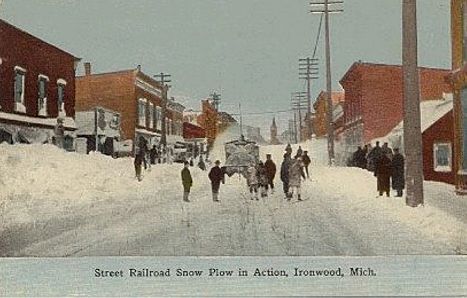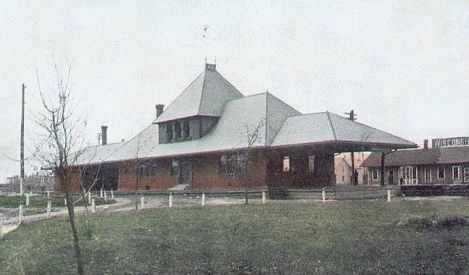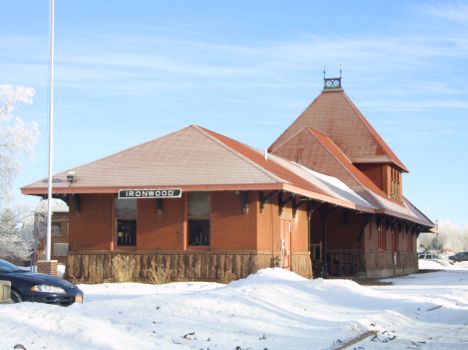 Ironwood was settled in 1885 as a commercial center around a number of iron ore mines. It became a village in 1887 and a city in 1889. [MPN]
There were six major mines in Ironwood in 1891 including the Ashland, Aurora, East Norrie, Newport, Norrie and Pabst. The last mine closed in Ironwood in 1965.
The Chicago & North Western railroad (formally the Milwaukee, Lake Shore & Western) built their depot here in 1892. The city had a street car line which ended at Giles, Wisconsin on the west and Bessemer on the east, including the neighboring cities of Hurley and Ironwood along the Montreal River.
Soo Line (WC) facilities included a register station and scales at this location. They had a yard, and a day/night operator in the depot in 1961. The depot was at MP 437.2.
Photo info/credit: Top, the Soo Line (WC) depot at Ironwood. 2nd photo, A snowbound doubleheader steam powered train in a blizzard in Ironwood in a postcard view. 3rd photo, a street railway plow in Ironwood. 4th photo, the C&NW (close) and Soo Line depot (far) in Ironwood. [Alan Loftis], 5th photo, the C&NW depot at Ironwood in 2003. [Dale Berry]
The Soo had a water tower in Ironwood. [SOO-W/1996]
The C&NW Ironwood Station was built in 1895. It was a brick building in Romanesque style which consists of two buildings connected by a covered passenger platform. Both structures rest on sandstone foundations five feet high and have hipped rooms with overhanding eaves supported by wooden brackets. At the northeast end of the station there is a covered passenger platform 20' by 27'. The passenger station is 27' by 90' long with a towerlike two-story portion approximately 25' long. A second coverred passenger platform, 27' wide by 25' long, and the brick baggage room 27' by 30' long. [UPM]
The C&NW roundhouse in Ironwood was on Curry Street and was built about 1900. [UPM]