Station: Bankers, MI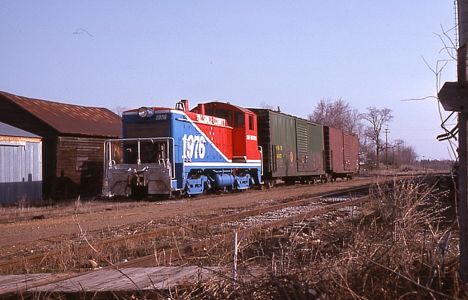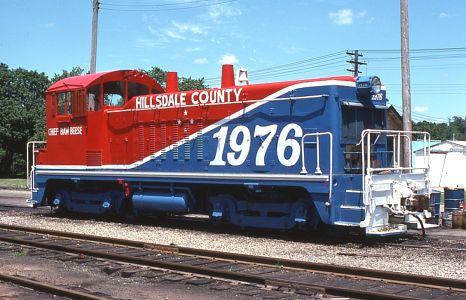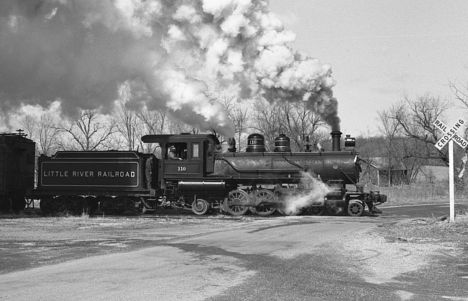 Bankers was a small hamlet four miles southwest of Hillsdale in Hillsdale County. It was settled about 1838 by Horace and George Banker. It gained some notoriety as the sudden terminus of the Detroit, Hillsdale and Indiana railroad with the Fort Wayne and Jackson railroad.
According to a 1974 article in the Hillsdale Daily News, Bankers was larger than Hillsdale and boasted of a depot. roundhouse, slaughter houses, cooper shop where barrels were made, taverns, stockyards, hotels, etc. The DH&I soon truncated its line at Hillsdale after coming under Lake Shore & Michigan Southern ownership. Bankers remained a junction point for the old Ft. Wayne line which continued to exist for many years for car storage. Bankers also had a sawmill in the early years.
Photo Info/Credit: Top and 2nd photo, Hillsdale County switcher 1976, an EMD NW-2, is photographed south of Hillsdale near Bankers in 1976. [Doug Leffler]. 3rd photo, Little River Railroad 110 is photographed crossing Quackenbush Road, south of Bankers in the early 1980's. [Doug Leffler]
---
1926. Bankers had a telegraph office with an NYC train register. The office was open from 7:50 am to 7:15 pm. [ETT-1926]