Station: Hillsdale, MI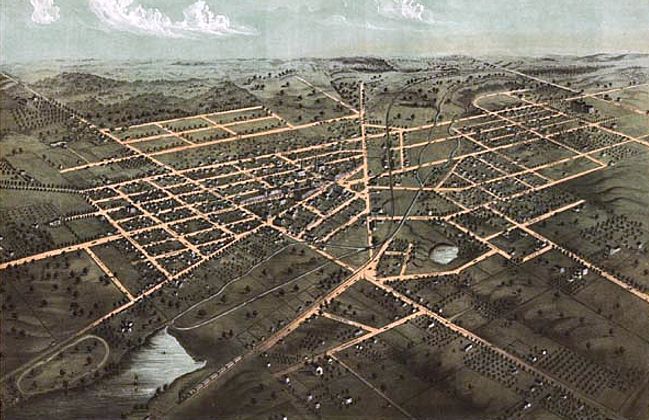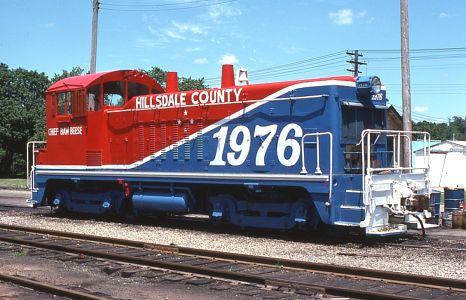 Hillsdale was settled around 1834. It was called Hillsdale Center in the early days. The town, in the center of Hillsdale County, was incorporated as a village in 1847 and it officially became a city in 1869. [MPN]
The first railroad to arrive in town was the State of Michigan owned Southern line in 1843. The line continued west to Jonesville in 1849. In 1871 the Detroit Hillsdale and Southwestern built their line west from Ypsilanti through Hillsdale, continuing southwest a few more miles to Bankers. The Fort Wayne, Jackson & Saginaw line bypassed Hillsdale in favor of Jonesville in 1869, but the line soon diverted through Hillsdale once firmly under Lake Shore ownership.
Photo Info/Credit: Top, a "birdseye" view of Hillsdale from the late 1800's. 2nd photo, Hillsdale County Railroad switcher 1996 in Hillsdale in July 1978. This is an EMD NW-2. [Doug Leffler photo].
---
Timeline:
1843 - The Southern railroad (later Lake Shore & Michigan Southern "Old Road") arrives at Hillsdale from Monroe and Toledo. It builds west to Jonesville and later Chicago in 1950.
1869 - The Fort Wayne, Jackson & Saginaw is built south from Jackson through Hillsdale to Reading. It is extended to Fort Wayne in 1870.
1872 - The Detroit, Hillsdale & Indiana builds into Hillsdale and Bankers from Ypsilanti. It is leased to the LSMS in 1881 and line direct connection with Bankers is removed in favor of using the Fort Wayne line.
---
Click here for other Hillsdale information: