Location: Portage Canal Bridge, Houghton, MI - (MR-CR) #3 1959
This is a lift bridge which crosses the Portage Canal in downtown Houghton/Hancock. The current bridge is only used for vehicle traffic. The bridge has two levels, allowing rail traffic on the lower section and vehicle traffic on the upper section. During it's heyday, the lower section was raised to the road level for cars, allowing low clearance boat traffic to clear without raising the bridge completely up.
There have been a number of bridges over the Canal at this point during history, including swing bridges. Many were damaged because of weather and ice conditions. The span was originally used by the Mineral Range, followed by the Duluth, South Shore and Atlantic, the Copper Range Railroad and even Milwaukee Road passenger trains bound for Calumet. The last user was the Soo Line before the rails were removed.
Photo info: Above - December, 2004 looking west in a winter view. [Dale Berry]. Right - A postcard view from the Houghton side, with a Milwaukee Road passenger train heading on the lower level to Hancock and beyond to Calumet. 1962.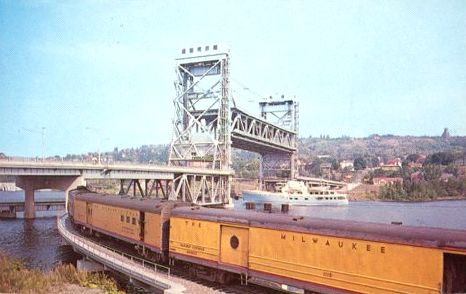 The current Houghton-Hancock Bridge over Portage Lake was constructed in 1959. This vertical lift bridge replaced a 1905 steel swing bridge which had in turn replaced an earlier wooden swing bridge. The new bridge was constructed by the State of Michigan with the two railroads which used the bridge (the DSS&A and the Copper Range) sharing in the costs which amounted to over $13 million. The chief engineer was Martin McGrath, while George Jacobson was the bridge engineer. The Al Johnson Construction Company was the general contractor, the American Bridge Company erected the superstructure, and the Bethlehem Steel Company supplied the structural steel. The bridge has an overall length of 1,310' with a lift span 260' long, and twin steel towers 180' high. When fully raised, the lift span provides a clearance of 104' for shipping on Portage Lake, part of the Keweenaw Waterway it is a two-level bridge, with four highway lanes on the upper segment and a railroad track on the lower level. [UPM]
---
Time Line
1959. The new lift bridge is opened, replacing the old swing bridge built in 1906.
---
Video