Station: Harbor Beach, MI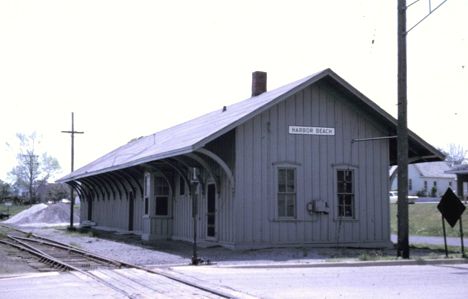 Harbor Beach is a city on the east side of Huron County along the Lake Huron shore. It was settled about 1837 and called Sand Beach. The name was later changed. It became a village in 1882 and a city in 1910. [MPN]
Sand Beach Township surrounds the city of Harbor Beach.
Sand Beach was identified in D&C Nagation brochures as a stop for lake passenger boats on their route from Detroit to Mackinac Island (along with Alpena, Cheboygan and other ports). Sand Beach also had a small harbor (in case of storms) and was a coaling facility for lake ships.
Photo Info/Credit: This is the C&O Harbor Beach depot taken in 1974. [Charles Geletzke Jr.]
---
1898, This was the north end of the F&PM Sand Beach Division. The railroad had water the coaling facilities here for locomotives, and the station was staffed by a daytime agent/operator.
1905 improvements: The PM builds a new well and standpipe at Harbor Beach. [PMAR-1905]