Station: Lansing, MI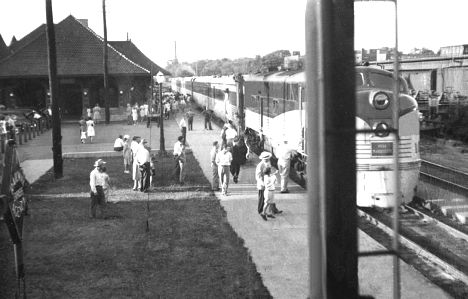 Lansing was settled about 1836 and first called Biddle City. in 1847 it was renamed "Michigan" and then Lansing in 1848. It became a village in 1848 and a city in 1859. In 1847 it was designated as the State Capitol of Michigan, which was moved here from Detroit. [MPN]
From 1847 to the start of the Civil War, elected officials and constituents came to Lansing by horseback, carriage or on the stage. Even though railroads had been in existence since the late 1830's, no rail line reached Lansing until the early 1860's. Then they came all at once from seven directions over a period of 16 years.
Railroads entered Lansing first in 1861 when the Amboy, Lansing & Traverse Bay railroad arrived from Owosso via Bath. (This line, now removed, was later the former Michigan Central Saginaw Branch. For five years, Detroiters wishing to visit the capital by rail booked passage on the Detroit & Milwaukee (later GTW) line from Detroit's Brush Street station and switched onto the Amboy line at Owosso.
In 1866, a second railroad reached Lansing from the south when the Jackson, Lansing & Saginaw built north into town from Jackson. This would become the other "leg" of the Michigan Central Saginaw Branch. This line gave good access from the southern two tiers of counties where most of Michigan's population lived at the time. Other roads arrived over the next 11 years from all directions. The Detroit, Howell & Lansing railroad built directly from Detroit in 1871 making this the fastest connection for visitors from Michigan's largest city. The last line to arrive was the through connection of the Grand Trunk Western from Flint and Port Huron. Ironically, this is the busiest of all rail lines remaining in Lansing today. [MRRC/MRL]
Photo info/credit: A Pere Marquette streamliner passenger train stops at the Lansing Union Station, which was located north of Michigan Avenue on the Michigan Central Saginaw Branch. The PM used this line from MA Tower to North Lansing as well as the station. Even though this was a "union" station, the GTW and Lake Shore had their own stations in Lansing. 1946 photo. [H. E. Smith, an operator at MA Tower, Al Smith collection]
---
Timeline:
1861 - The Amboy, Lansing & Traverse Bay railroad arrived in Lansing from the north via Owosso and Bath.
1866 - The Jackson, Lansing & Saginaw builds north from Jackson and Mason.
1869 - The Lansing & Ionia builds west from Lansing to Ionia.
1870 - The peninsular Railway builds southwest from Lansing to Battle Creek via Charlotte. This later becomes the Grand Trunk Western.
1871 - The Detroit, Howell and Lansing arrives in Lansing from Detroit via Howell. Later becomes the Pere Marquette.
1873 - The Lake Shore & Michigan Southern arrives in Lansing from Albion via Eaton Rapids. Later becomes the New York Central.
1877 - The Grand Trunk Western completes its cross-state line arriving in Lansing from Port Huron.
1886 - The Lansing Transit railway was built to serve industry near downtown Lansing.
1904 - The Lansing Manufacturers railroad was built as a belt line around north and west Lansing to serve the growing auto industry in the area.
---
The DL&N builds a new freight house here in 1891. [DL&N-1891]