Interlocking: Lansing, MI - MA Tower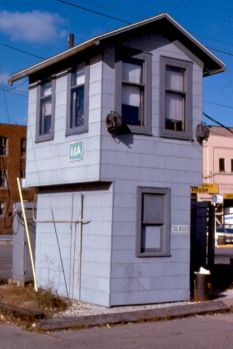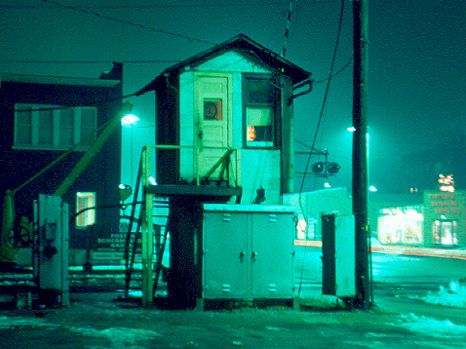 MA Tower (or Michigan Avenue Tower) was an interlocking tower in downtown Lansing which served as a street railway crossing of the Michigan Central Saginaw Branch, as well as a junction of the Pere Marquette and MC lines. The PM used the double tracked Michigan Central line from MA Tower to North Lansing Tower before heading off on its own line west to Grand Rapids.
Photo info/credit: Top, MA Tower in Lansing in 1984. [Jim Slater]. 2nd photo, a night shot of MA Tower in December, 1974. [Dennis Schmidt]. Map, the MA interlocking track diagram in 1984. Drawn from the interlocker files at the State of Michigan Archive. [Dale Berry]
Comment from "Tim" on the RRHX History Bulletin Board in 2004: "The towers at North Lansing and MA were identical and both contained desktop mechanical interlocking machines. Both also controlled the highway protection via an electrical switch in the tower. When North Lansing closed, an electrical CTC-style box was installed at MA and the gates were automated. A local model railroad club tore down the tower at North Lansing in 1964 for materials to remodel their GTW depot in Millett. The stairs are still in service to the basement there.