Station: Ionia, MI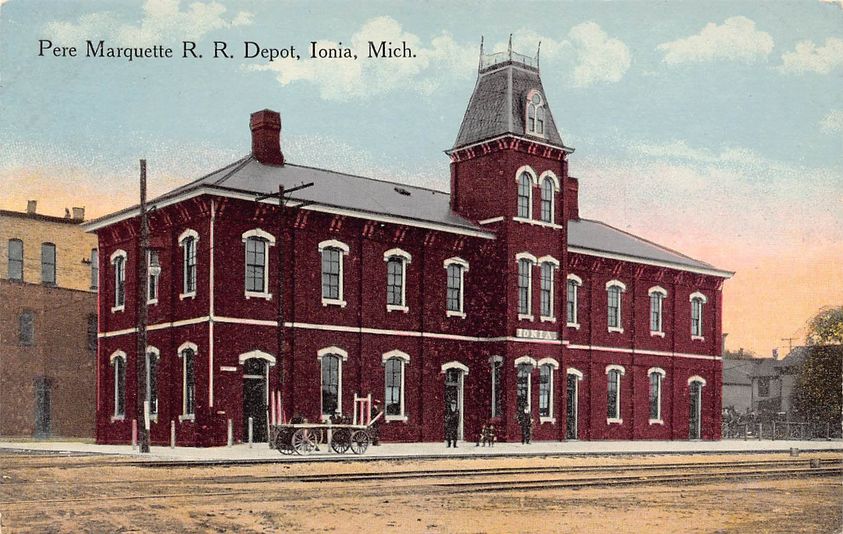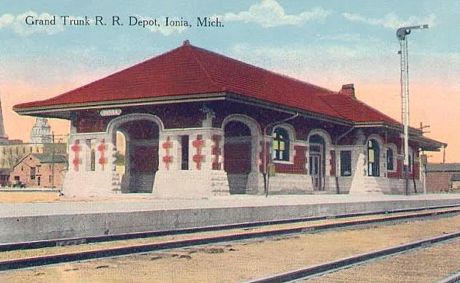 Ionia was established about 1831. It became the county seat of Ionia County. The village was incorporated in 1865 and it became a city in 1873. [MPN]
Ionia was a crossing of two railroads, the Pere Marquette line from Grand Ledge to Howard City and the east-west Grand Trunk Western from Owosso to Grand Rapids.
The Pere Marquette line through town was originally their main route from Detroit northwest, until a new line was created from Grand Ledge to Grand Rapids. The PM had a very large, ornate depot here.
The PM and GTW crossed here with the crossing protected by a derail (on the PM) and a target with switch lamp.
Photo Info/Credit: Top, a postcard view of the PM Depot at Ionia from the late 1800's. At this time, Ionia was a major hub for the Detroit, Lansing and Northern. 2nd photo, an early postcard view of the GTW depot in Ionia. [Alan Loftis collection].
---
Timeline:
1879 improvements: A new coal house and derrick was built here by the DL&N. [DL&N-1879]
1889 scales. The DL&N installed a new 24-foot track scale at Ionia. [DL&N-1889]
1890 improvements. The DL&N laid a new floor in their machine shop; a brass foundry was built; the freight house was repaired and painted and the passenger house was repaired. [DL&N-1890]
1905 improvements: The PM builds a ice house at Ionia to replace one that was destroyed by fire. [PMAR-1905]
The Pere Marquette in Ionia had a 60' hand operated turntable, still in place as of 1942.
1917. The GTW had an agent here as well as operators around the clock. [TRT]