Station: Ionia, MI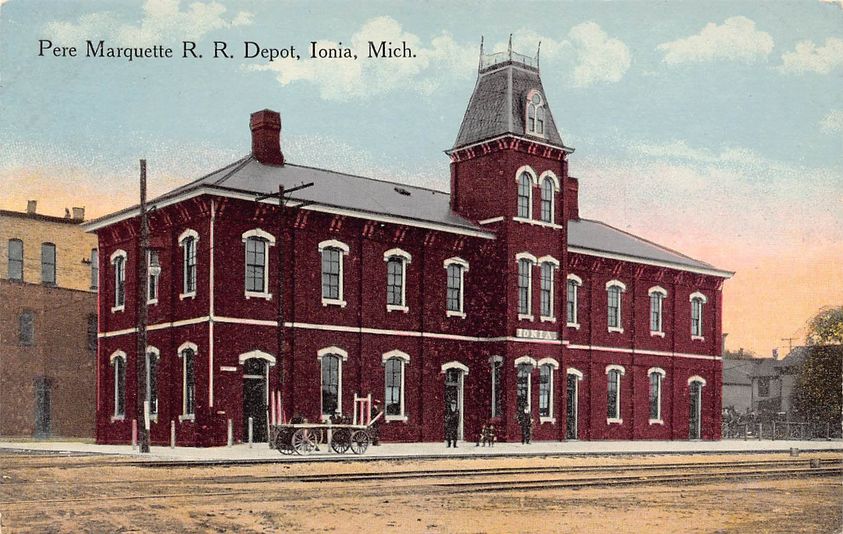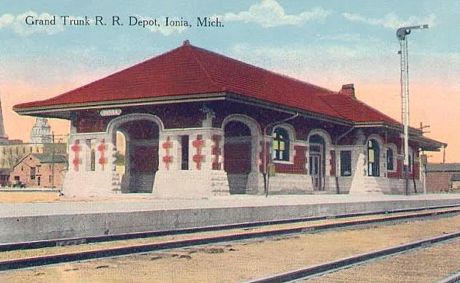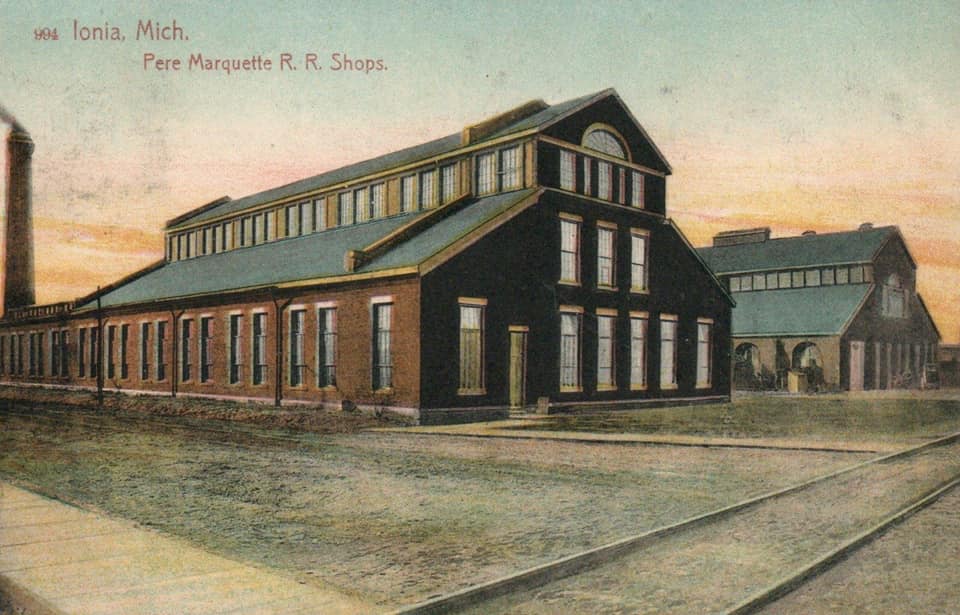 Ionia was established about 1831. It became the county seat of Ionia County. The village was incorporated in 1865 and it became a city in 1873. [MPN]
Ionia was a crossing of two railroads, the Pere Marquette line from Grand Ledge to Howard City and the east-west Grand Trunk Western from Owosso to Grand Rapids.
The PM and GTW crossed here with the crossing protected by a derail (on the PM) and a target with switch lamp.
Photo Info: Top, a postcard view of the PM Depot at Ionia from the late 1800's. At this time, Ionia was a major hub for the Detroit, Lansing and Northern. 2nd photo, an early postcard view of the GTW depot in Ionia. [Alan Loftis collection]. 3rd photo, the Pere Marquette shop buildings in Ionia, around 1910 in this postcard view. These were likely built by predessor I&L.
---
Notes
The Pere Marquette line through town was originally their main route from Detroit northwest, until a new line was created from Grand Ledge to Grand Rapids. The PM had a very large, ornate depot here.
The original I&L established a depot, car shops and round house here. [I&L]
---
Time Line
1879: A new coal house and derrick was built here by the DL&N. [DL&N-1879]
1889. The DL&N installed a new 24-foot track scale at Ionia. [DL&N-1889]
1890. The DL&N laid a new floor in their machine shop; a brass foundry was built; the freight house was repaired and painted and the passenger house was repaired. [DL&N-1890]
1905: The PM builds a ice house at Ionia to replace one that was destroyed by fire. [PMAR-1905]
The Pere Marquette in Ionia had a 60' hand operated turntable, still in place as of 1942.
1917. The GTW had an agent here as well as operators around the clock. [TRT]
---
Industry
1913. The Ypsilanti Reed Manufacturing Co. has a large five story plant in Ionia. The plant was erected by Fred W. Green, the mayor of Ionia and governor of Michigan. The plant made reed furniture, but later expanded into seats for busses and frames for Chevrolet automobiles. The plant was served by both railroads. [I&L]