Station: Orleans, MI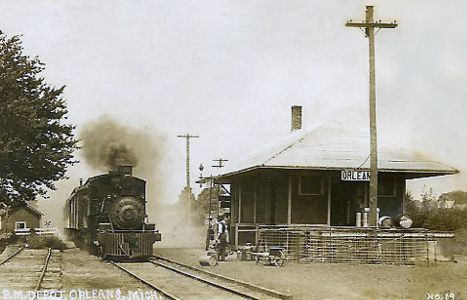 Orleans was settled in 1837 as an Ionia County farming community and originally called Wheatland. The name was changed to Orleans in 1868.
Orleans was on the Pere Marquette's branch line which went north from Ionia to Howard City, about ten miles northwest of Ionia, the county seat.
Photo Info/Credit: The Pere Marquette depot at Orleans with an arriving passenger train. The station agent appears to have a keg and some other LCL (less than carload) freight to add to the baggage car. [Alan Loftis collection]
---
1887 cattle yards. The DL&N builds a new cattle yard at Orleans. [DL&N-1877]
1909 station: The PM built a new station here in 1909. [PMAR-1909]