Station: East Tawas, MI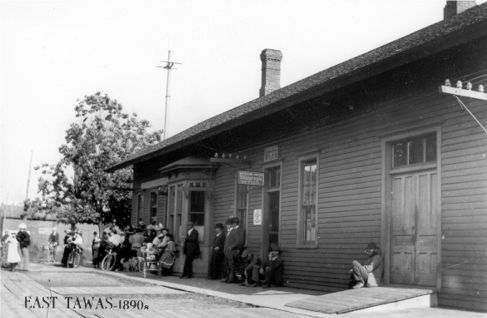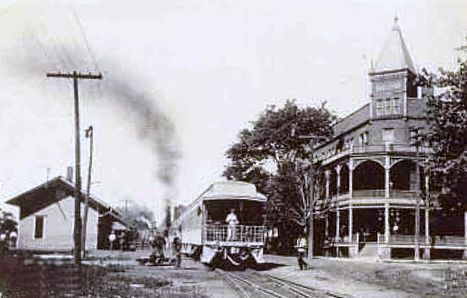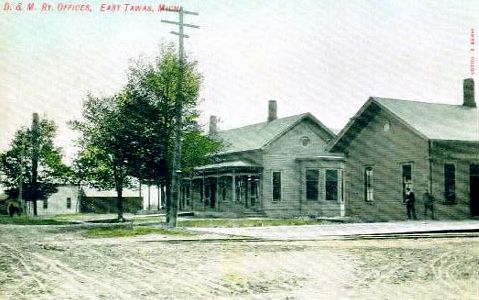 East Tawas was settled along Tawas Bay/Lake Huron as a lumber town in Iosco County about 1862. It became a station stop on the Detroit, Bay City & Alpena railroad (later D&M, Lake States) and incorporated as a village in 1887, It became a city in 1895. The city absorbed Tawas Beach in 1922. [MPN] The town is located adjacent to Tawas City which is a separate municipality.
The photo at the left is of the first depot at East Tawas. This was replaced by a much larger depot serving Tawas City and East Tawas, as well as the Michigan offices of the Detroit & Mackinac railroad.
Photo Info/Credit: Top, the original D&M depot at East Tawas, built about 1890. [Dale Berry collection]. 2nd photo, another shot of the depot with the Holland Hotel on the right. A D&M train is heading southbound in this photo. 3rd photo, Reported to be the D&M offices in East Tawas with the original depot at the right. Both are across from the Holland Hotel. [2nd and 3rd, Alan Loftis collection]
---
June 11, 1895. Darius Thompson went to Prescott to attend the funeral of his niece and was run over by the passenger train of the Detroit & Mackinac railroad. His body was cut in two. The longshoremen will bring his body to here (Detroit) as he was a member. [DFP-1895-0612].
April 3, 1930: The Michigan Public Utilities Commission approves the consolidation of individual depots at East Tawas and Tawas City into one station toi be located between the two towns to be known as "East Tawas-Tawas City". The request came from the railroad and both cities agreed to the change. [MPUC-1930]