Location: Emery Junction, MI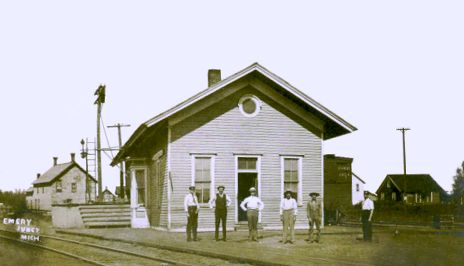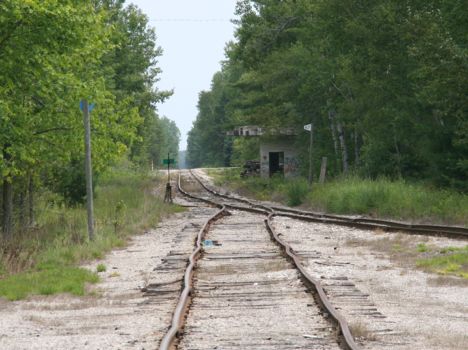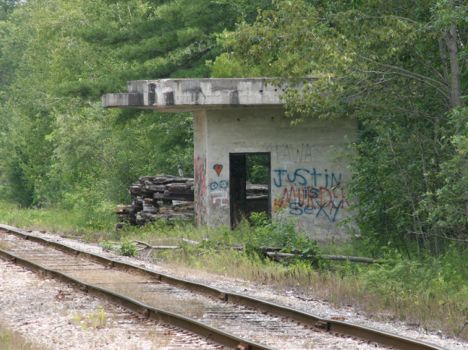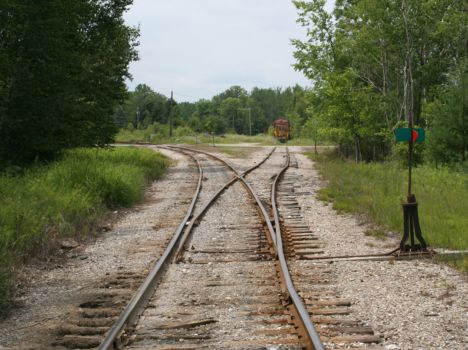 Emery Junction was located just west of National City in Iosco County. The National Gypsum Company owned a large quarry nearby in 1925.
Emery Junction was an insignificant place until the Detroit & Mackinac railroad rerouted their main line south from here to North Bay City. Until that time, the main line continued east from Emery Junction via Prescott to Alger, Michigan for a connection with the Michigan Central railroad. Once the main line was routed south, the old line was truncated at Prescott and became the D&M's Prescott branch. Diverging north a few hundred feet east of Emery Junction on the Prescott Branch was the D&M's Rose City branch.
During its "heyday", Emery Junction handled main line trains, as well as daily trains from Tawas City west to Prescott and northwest to South Branch and Rose City. The junction also provided protection for switching operations at mines north at National City and south near Turner.
Photo Info/Credit: Top, the D&M depot at Emery Junction. [Alan Loftis collection]. 2nd photo, from the junction looking east. The track in the foreground is the remnant of the Prescott Branch (former main line to Alger). The track merging from the right is the LSRC main line to Bay City. 3rd photo, a closer look at the base of the old water tower. This base is similar to the base which still exists at Harrisville and was probably built around the same time. In addition to watering locomotives on the main line, the water tower would have also serviced locomotives on the Prescott and Rose City branch lines. 4th photo, looking west from the Emery Jct. switch. The line diverging to the left is the main line to Bay City. The line to the right is the former Prescott Branch which is now used to store an old box car and for maintenance of way equipment. There are footings beyond the road crossing which are probably from the old depot or house which is shown in the top photograph. These track photos were taken in 2007. [Dale Berry]