Timetable: NYC - Jackson Branch - Lenawee Junction to Jackson
This was one of the first "branch" lines in Michigan, built by the Michigan Southern and Northern Indiana tgo reach Jackson (Michigan Central "teritory"). Station hours and siding capacity as of 1916, 44' cars.
| | | |
| --- | --- | --- |
| Station | MP from Adrian | Notes |
| Lenawee Junction xNYC | 4.1 | DN I J P44 TC=WA |
| Raisin Center xWab | 6.3 | I |
| Chase's | 8.6 | P19 |
| Sutton | 9.0 | |
| Tecumseh Junction xDTM xDTI | 12.6 | DN W P40 Yard TC=SU |
| Tecumseh | 13.1 | |
| North Yard | 17.6 | P29 |
| Clinton | 21.3 | D P40 TC=CK |
| River Raisin | 25.5 | |
| Manchester | 26.1 | D W P66 Yard TC=UD |
| Manchester Junction | 26.1 | J |
| Norvell | 32.8 | D P27 TC=NO |
| Napoleon | 36.1 | D P40 TC=OP |
| Eldred | 40.6 | |
| OD Tower | 46.6 | DN TC=OD |
| Jackson | | J W C FH |
| | | |
Notes:
Lenawee Junction: The Jackson branch crossed the Monroe branch on a diamond before heading north. This was a stop and proceed diamond and was not interlocked. The station was located in the southeast quadrant of this diamond and served both branches and the Old Road.
Raisin Center: This crossing of the Wabash line was controlled by an automatic interlocker as of 1916.
Tecumseh Junction: This was the crossing of the DT&M line, which was also used by the DT&I railroad from their connection just west of the Jackson Branch. DT&I has a car shop just east of the Jackson Branch on the DT&M and used their line to Dundee. At some point, the NYC turned dispatching of the line east of Tecumseh over to the DT&I.
North Yard: This was a small yard located about 4 blocks north of M-50 highway. The passing track for Tecumseh was likely located here.
Manchester Junction: This was apparently a at-grade crossing with diamond at a very slight angle. It was converted from a diamond to two junction switches. Trains on the Ypsilanti Branch set the switchres for their route but also backed down to the Lake Shore depot which was in town about 1/2 miles south of the Ypsilanti branch. (The Ypsilanti branch depot, located closer to M-52 was discontinued). The junction had a bell system which rang if the Jackson branch was occupied, warning Ypsilanti branch trains that the line was occupied.
OD Tower: The Jackson Branch was the first branch line to arrive in Jackson (other than the MC main line). When the Fort Wayne and Air Line branches were built, they crossed at what became OD Tower, a 2-story interlocking tower which controlled the crossing.
Jackson: The Jackson Branch came north from the OD Tower location along what is now Air Line Drive. There was a small turntable, freight house and depot, as well as industry in the area. They used their own depot for a time but when both the Lake Shore and MC came under Vanderbilt family control, the Lake Shore began using the new MC "union" station at Jackson. Maps show a connection at the north end of the Jackson Branch with the MC main line. This was a difficult curve and was likely abandoned in the 1870's. The former Lake Shore freight house has been beautifully restored as a Wendy's Restaurant with many old railroad photographs inside.
Note Key: BB=Bascule Bridge | C=Coal | CS=Car Shop | D=Open > Day | DN=Open Day and night | DS=Dispatcher | DT=Double Main Track | EH=Enginehouse | F=Diesel Fuel | HI=Half Interlocked Crossing | FH=Freight Housse | I=Interlocked Crossing | J=Junction | LB=Liftbridge | N=Open at night | P=Passing Track w/40' car capacity | Q=Quarry | RH=Roundhouse # stalls | RT=Railroad Resort | S=Scales | SB=Swingbridge | T=Turntable | TC=Telegraph call | W=Water | X=Crossing | Y=Wye | Yard=Yard
[REF] =
---
Time Line
1879. The Jackson Branch of the LS&MS shows a fall of over 200 feet between Jackson and Lenawee Junction. [DFP-1879-0216]
---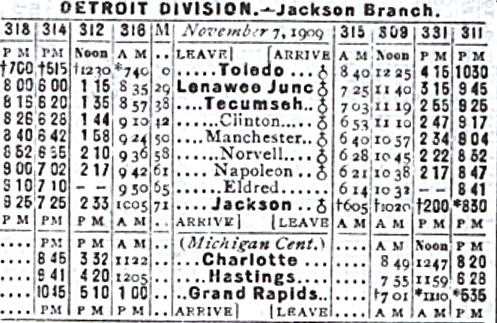 Left, a 1910 view of the Offical Guide timetable for the Jackson Branch, between Lenawee Junction and Jackson. the timetable also included an extension of the line south to Toledo, and north of Jackson (on the Grand Rapids branch. In 1910, the branch had four passenger trains in both directions.
---